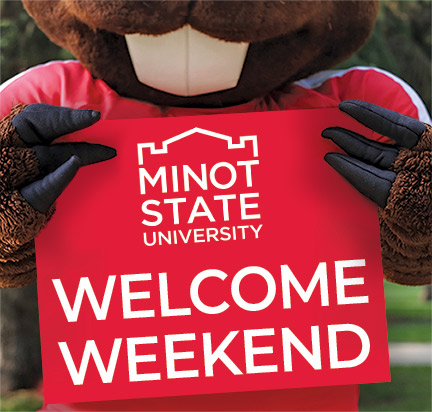 Welcome Weekend Fall 2021
Welcome Weekend is a mandatory on-campus event for all new students. Activities will take place August 20-23, with classes beginning at 4:00 p.m. on August 23. 
Welcome Weekend is the official kick-off to the fall semester and the second part of the new student experience. You will have the chance to meet other new/current students in small groups with New Student Program leaders.
By participating in Welcome Weekend, you will:
Create opportunities to investigate your intellectual and educational goals.
Explore curricular and co-curricular activities, resources, and services that support a successful transition to Minot State.
Engage in interactions designed to build and maintain relationships with students, faculty and staff.
Encourage challenging and supportive dialogues that promote self-reflection, critical thinking and appreciation of diversity.
Be provided with an understanding of campus culture and the culture of the Minot community.
Check out the Fall 2021 schedule here!
Participate in our community service projects! Learn more below!
Additional sessions from a variety of topics will be available. Transfer students are encouraged to attend these sessions, and first-year students are required to participate in a minimum of 10 sessions.
Whether you are a commuter or residential student, we look forward to seeing you at Welcome Weekend.
Your New Student Fee supports Welcome Weekend activities.