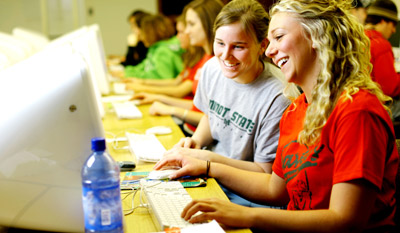 Getting Started
Now that you have decided to pursue a degree online, you will want to follow the steps below to get started:
Advising
You should speak to the coordinator for program you are interested in completing. Contact information for each program is listed at the bottom of the page. If you are pursuing an undergraduate degree and have transfer credits, they can complete a transcript evaluation for you.
Admissions Application
If you are pursuing an undergraduate degree, you must first apply for admission by completing the steps listed below. For graduate admission, please visit the Graduate School web site.
a completed admission application
a $35 non-refundable application fee
proof of two immunization for measles, mumps, and rubella (Students enrolling in only distance education classes, can request an exemption.)
ACT scores (for all U.S. and Canadian new students and transfer students who are less than 25 years of age on the first day of class and who have less than 24 semester transfer credits)
official transcripts (all final high school, GED, or college/university transcripts)
College Preparatory Course Report Form (for freshman and transfer students with a high school graduation date of 1993 or later and fewer than 24 semester transfer credits/36 quarter transfer credits)
Currently, there is no mandatory application deadline; however, it is suggested that all students planning to enter the University in fall apply by April 1 of the preceding spring. Students planning to enter during subsequent terms should apply at least one month in advance.
Before you can register, you will also be required to complete new student orientation and speak with an academic advisor. This all can be completed online from a distance. For more information, please visit the Future Students web site.
Registration
Once you have completed orientation and have been advised, you are ready to register for classes. Registration for the fall semester usually begins in the preceding March; spring registration usually begins in the preceding October; and summer registration usually begins in the preceding March. Registration is completed through Campus Connection.
Program Coordinators