Department of Nursing
The Minot State University Nursing pin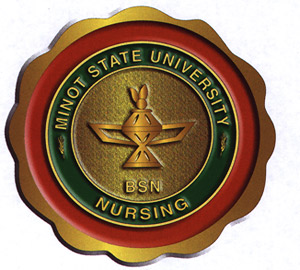 A symbol of the nursing profession, unique to each school, is the nursing school pin. Designs range from small and simple to large and elaborate multicolored designs. The lamp of Florence Nightingale lights many of them. This is the symbol for the Greek lamp of knowledge.
The first school pin was presented in 1880 to the class at Bellevue Hospital School of Nursing in New York City. The hundreds of school pins designed since then carry both traditional symbols and symbols understood by those who have graduated from the school.
The first pin of Minot State University Department of Nursing was presented to graduates in 1973. The Nursing pin is to be worn proudly and cherished by the graduate.
Reference: Medical Economics (1996). RN Nursing School Pin Collection 1997 Calendar. Montvale, NJ.
The MSU Nursing Program pin can be ordered through:
Jostens ATTN: Tom Babcock
PO Box 2738
Bismarck, ND 58502-2738
Phone: 1-800-737-6014