Division of Music
Band History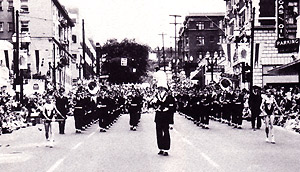 Minot Normal School opened in 1913 with a full-time music instructor, teaching music classes and choir. The orchestra program was added in 1922, the same year the Music Department was labeled as such in the college bulletin. In 1926, Arturio Petrucci was hired as head of the String Department. Mr. Petrucci organized the first band in 1934 and boasted 33 members.
In 1946 Mr. Lawrence Hahn was hired to become the first full-time band director at Minot State Teacher's College. In 1953 the Minot State Teachers College Symphonic Band was invited to present a concert for the North Central Music Educators Conference in Milwaukee, Wisconsin.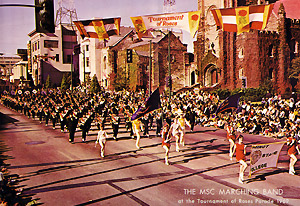 The MSTC Band was invited to march in the Portland Rose Festival in 1956. Honored above the more than 200 bands participating in this celebration, the band was named the Honor Band of the Festival. The MSTC College annual was dedicated to Mr. Lawrence Hahn and the college band as a way of showing appreciation for the band's contribution to student spirit and culture.
Dr. Ira Schwarz became Director of Bands in the fall of 1961. Dr. Schwarz was a published composer at the time of his appointment to MSTC and is noted as the composer of the Beaver Fight Song that is still used today. During Dr. Schwarz's tenure, the MSTC Band performed at the World's Fair in Seattle, WA.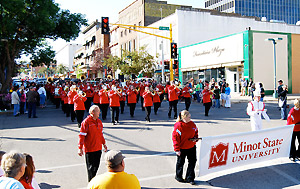 Dr. James Jurrens replaced Dr. Schwarz as Director of Bands in 1966 and continued in that position through the spring of 1970. Integral to the growth and successes of the band during that time was assistant director Leon Bradley, who is also credited with founding the first MSU Jazz Ensemble, still active today. During their tenure, the Beaver Marching Band made several appearances including half-time shows for the Minnesota Vikings, Denver Broncos, Green Bay Packers and the Winnipeg Blue Bombers. The Beaver Marching Band was featured by the Stanbury Uniform Company in its national music magazine, and the "Instrumentalist" magazine.  The highlight of the marching band was when it was chosen as one of 21 bands throughout the US to march in the 1969 Tournament of Roses Parade in Pasadena, CA. At that point in the band's history, the band was 160 members strong. The marching band continued to hold a presence under the direction of Dr. Stan Schleuter, Dr. Jere Fryett, Dr. Robert Quebbeman, Joseph Alme, and Dr. Lynn Moller through the fall of 1984 when it was officially disbanded.
The Minot State University Marching Band was resurrected for Homecoming 2009 by Joseph T. Alme. This was the band's first appearance on the field and homecoming parade in 25 years.