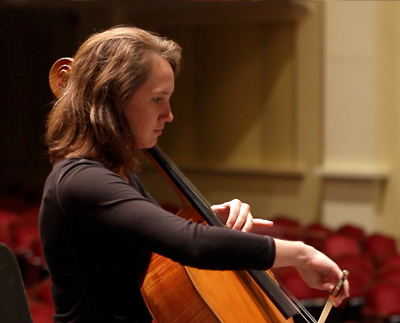 The MSU Division of Music offers a comprehensive program and is fully accredited by the National Association of Schools of Music.
Division of Music
Music Programs
Whether you choose to teach, perform or prepare for advanced studies, Minot State University will prepare you to pursue your chosen musical path.
Our students have opportunities to perform with the Minot Symphony, the Western Plains Opera, and a host of other community and campus organizations. Led by a nationally acclaimed Music Faculty, students can pursue private instruction and
participate in ensembles ranging from chamber music to the MSU Marching Band.
Areas of Study
We offer comprehensive and personalized curriculum in five areas:
Band
Keyboard
Strings
Voice
Music Education
Degrees
Scholarships
Each year, numerous scholarships are awarded to music majors, minors and participants alike. Students may audition for any of the awards by calling the Division of Music Office. All awards are competitive and may be renewed for up to five years.
Performance opportunities
Students perform with each other and alongside MSU faculty members, regional musicians and with international guest artists in large and small ensembles including:
Piano and organ recitals, accompanying and ensemble work
Employment Outlook
Minot State has an excellent history of working graduates. Music Education has a virtually 100% employment record for those who have sought to teach after graduation. Numerous other graduates have gone on to pursue higher degrees and professional engagements. Employment of musicians and music teachers is expected to grow about as fast as the national average for all occupations.
Music teachers who are geographically mobile and have licensure in more than one subject area are likely to have a distinct advantage in finding jobs.
Professional musicians will find competition keen, especially for full-time employment. New musicians or singers will have their best chance of landing jobs with smaller, community-based performing arts groups or as freelance artists. Talented individuals who are skilled in multiple instruments and musical styles will have the best job prospects. (Source: U.S. Department of Labor)
Our concert hall
Our premiere performance facility is Ann Nicole Nelson Hall. Architecturally stunning, technologically state-of-the-art, many consider the 920-seat auditorium the finest performance hall in the state.
Our festivals
The Division of Music has an active outreach program and sponsors two annual festivals:
Coursework 
Composing, conducting, teaching, arranging, improvisation and performance
Music literature, theory, history and technology
You will participate in large and small ensembles, private lessons and master classes. All students present a senior recital.
Our faculty
Our faculty members are dedicated educators and active performing artists who bring extensive professional experience to their teaching.
Our college
The College of Arts and Sciences provides fundamental liberal arts education for all MSU students, giving students the knowledge, skills and values to help them think critically and creatively.
To learn more, contact us or better yet, schedule a campus visit so we can meet face-to-face and show you around.
Contact Information
Dr. Erik Anderson, Chair
Division of Music
Phone: 701-858-3185 or 1-800-777-0750 ext. 3185
j.erik.anderson@minotstateu.edu