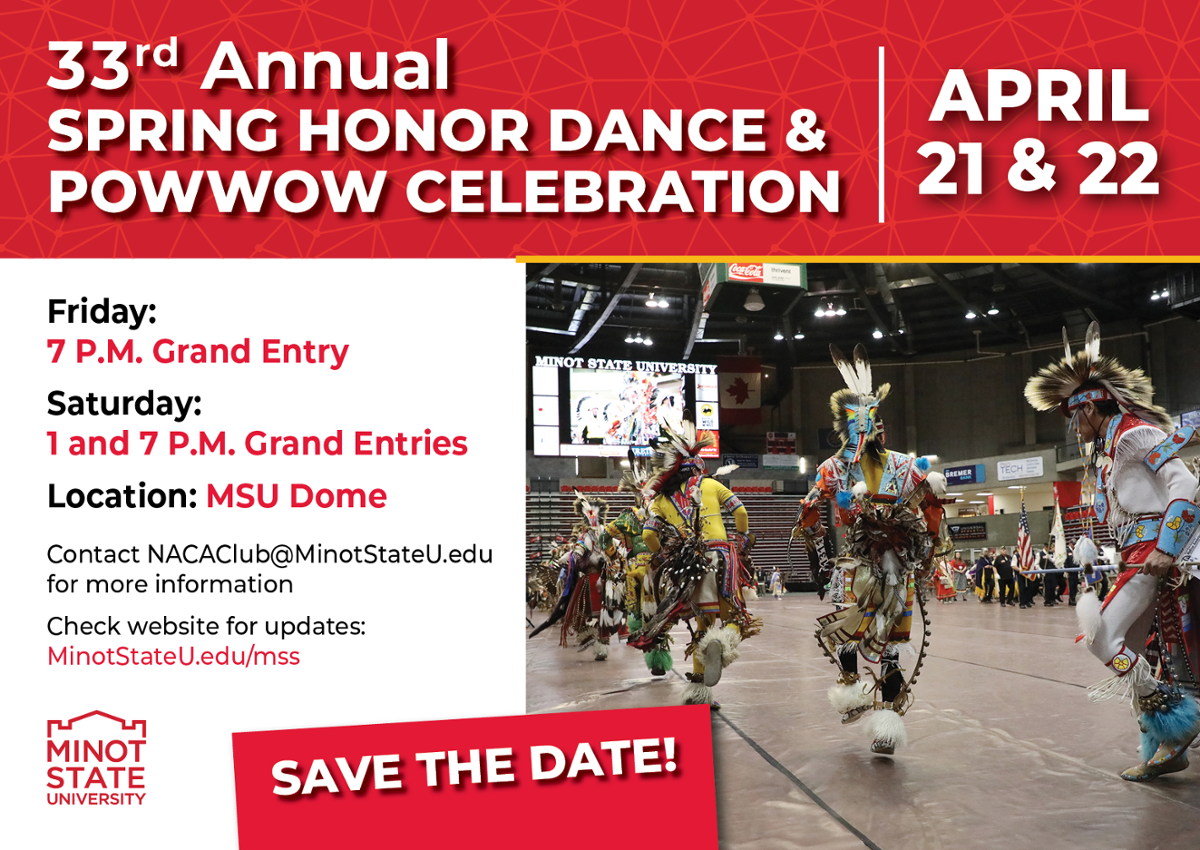 Native American Cultural Center
Hello,
This is Annette Mennem, Native American Center Director at Minot State University.  The Native American Cultural Center is open with some COVID-19 requirements posted.  Returning students and new students are welcome to stop by anytime during open hours. 
I am available this semester for future students interested in learning more about MSU and the NA Cultural Center, either face-to-face or virtually. There are many ways to contact me, my office 701-858-3112, my email annette.mennem@minotstateu.edu, on Zoom (zoom.us/j/4816693581) and on Facebook MSU-Native American Cultural Club and Center.
The campus is open for tours, please follow the link for future students on the MSU homepage to schedule a tour and make sure to mention scheduling time in the Native American Cultural Center while on your tour. 
Stay safe and well, miigwech.
Best Regards,
Annette Mennem, MsM
Minot State University Native American Center Director
The Native American Cultural Center provides counseling, advising, and academic student transitional assistance to Native American/American Indian students at Minot State University. Student personal, social, financial, and career concerns are also addressed at this "home away from home" rest and relaxation student center. The center hosts the Native American Cultural Club.
Coordination and correspondence with area tribal councils, offices and colleges is also maintained to benefit and support our students.
Campus and community events are developed and presented to promote public awareness, understanding and appreciation of Native American people and their culture. 
The Native American Cultural Center is open Mon. - Fri., 8:00 a.m. to 4:30 p.m.
About the Native American Cultural Center
» Welcome
» Mission
» https://www.facebook.com/MSU-Native-American-Cultural-Awareness-Club-and-Center-176183315820239 [Facebook]
» Native Studies
» Services
Information for Current and Prospective Students
» Undergraduate Majors and Programs
» Graduate Majors and Programs
» Admissions Checklist - First Year Students
» Admissions Checklist - Transfer Students
» Admissions Checklist - Graduate Students
» Scholarships