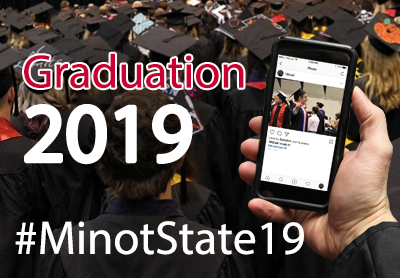 Social Media (Commencement)
Let's celebrate our Minot State University graduates! We invite you to participate and celebrate via Facebook, Twitter, and Instagram. Before, during, and after the ceremony please share messages and photos. Please use the hashtag #MinotState19 and watch the posts roll out on the video board and across the world.
Here's where you will find special commencement moments on social media.
Facebook
Be sure to "like" Minot State University to receive updates. You can post directly to our timeline and/or post to your own. We will have a commencement day photo album on Facebook late Friday afternoon.
Instagram
Follow us at Minot State.
Twitter
Minot State's Twitter handle is @MinotStateU. Don't miss a Tweet or you'll miss a lot!
Live Streaming
This ceremony is being streamed live via Minot State University's website. It will be archived and available at MinotStateU.edu/commencement.
Photographer
Minot State University has procured Rainbow Photo to photograph each graduate as they shake hands with Dr. Steven Shirley, president of Minot State. Graduates can obtain Rainbow's contact information via their email.