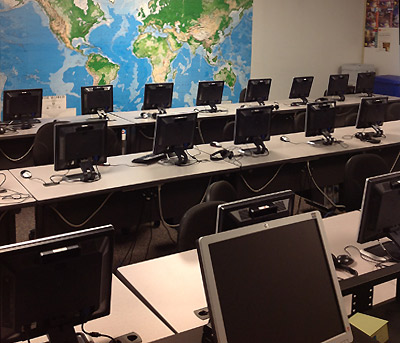 Foreign Language
Language Resource Center
The Language Resource Center is located in Hartnett Hall room #328w. The LRC houses 30 workstations.
An extensive variety of software applications, films, books, HDTV, games, and audio materials are available for student use.
Reservations for the LRC should be made in advance. A confirmation e-mail will be sent upon approval.
Students are welcome in the LRC from 9am-5pm M-F; however, other language activity may be in progress. See schedule below:
LRC Lab Hours Spring 2017
|   | Monday | Tuesday | Wednesday | Thursday | Friday |
| --- | --- | --- | --- | --- | --- |
| 8:00-9:00am | SPAN TV CNN | SPAN | SPAN TV CNN | FRENCH | SPAN |
| 9:00-10:00am | SPAN TV CNN | SPAN | SPAN TV CNN | FRENCH | SPAN |
| 10:00-11:00am | SPAN TV CNN | SPAN | SPAN TV CNN | FRENCH | SPAN |
| 11:00-12:00pm | SPAN TV CNN | GERMAN | SPAN TV CNN | SPAN | SPAN |
| 12:00-1:00pm | SPAN TV CNN | GERMAN | FRENCH | SPAN | GERMAN |
| 1:00-2:00pm | SPAN TV CNN | GERMAN | FRENCH | SPAN | GERMAN |
| 2:00-3:00pm | SPAN TV CNN | FRENCH | GERMAN | SPAN | GERMAN |
| 3:00-4:00pm | SPAN TV CNN | FRENCH | GERMAN | SPAN | FRENCH |
| 4:00-5:00pm | SPAN TV CNN | FRENCH | GERMAN | SPAN | FRENCH |
|   |   |   |   |   |   |
| Lab Assistants | Monday | Tuesday | Wednesday | Thursday | Friday |
| Spanish | 2-3pm | 10:00-11am | 2-3pm | 10:00-11am |   |
| German | Floating | Floating | Floating | Floating | Floating |
| Frenc | 6:30-7:30pm | 6:30-7:30pm | 10am-11am | Floating | 10am-11am |

Foreign Language Lab Assistants
| | | |
| --- | --- | --- |
| Araceli Alonso Gomez De La Fuente (Spanish) | Noro Ratianarivo (French) | |

» Tutoring - Center for Engaged Teaching and Learning (CETL)