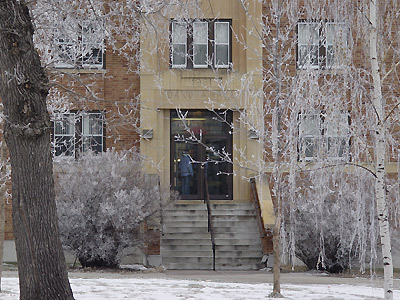 Office of International Programs
Minot Area Highlights
The City of Minot
The City of Minot was built during the creation of The Great Northern Railroad and where it received its name as the "Magic City" as it grew almost overnight. Since then Minot has grown to a population of 36,500 consisting of German, Norwegian, Irish, English, Swedish and French ancestry.
Minot earned national recognition for its selection as an "All America City" in 1992. The Ward County seat and fourth largest community in North Dakota, Minot was founded in 1887 when the Great Northern Railroad made its way through the prairie.
Nicknamed the "magic city" because of its phenomenal growth during the early years of the 20th Century, Minot has become a regional powerhouse. As a major center for commerce, health care, finance, agribusiness, education, industry, transportation and recreation, Minot enjoys the finest in technology and quality services while maintaining its "small town" flair.
Minot Air Force Base
The Minot Air Force Base (MAFB) is located 13 miles north of the City of Minot, the city shares a close relationship with those who make up Team Minot, a phrase coined for the relationship between the two communities. Minot has long been committed to MAFB. The Bases' host unit, the 5th Bomb Wing, is one of two B-52H Stratofortress bomber bases in the Air Force. The other major weapons system is the Minuteman III Intercontinental Ballistic Missile, assigned to the 91st Space Wing. There are just over 10,000 personnel and their dependents stationed at Minot Air Force Base.
Local Weather
The climate in North Dakota is very pleasant, but can range from extremely hot in the summer months to very cold in the winter months. Minot usually has three to four snowstorms during the period of October through April. In addition, there are very infrequent tornado warnings during the summer.
Summer - Rainstorms can be heavy at times with hail stones (frozen raindrops), but the most serious summer storms in North Dakota are tornadoes. A tornado is a strong wind in the shape of a funnel can destroy things in its path as it hits the ground. Warnings alert people to take shelter—you will hear a siren if a tornado is spotted. If you live on campus, instructions will be given to leave your room and take shelter in an inner hall, basement, or designated shelter area. When the weather looks threatening, it is wise to listen to the radio or television for weather conditions. There are two terms used to describe the possibility of a tornado. A tornado "watch" means there may be a chance of one; a "warning" means that tornado-shaped clouds have actually been observed. When you go to a shelter or basement, it is wise to take a flashlight, battery-run radio, and a blanket with you. During the winter, Minot temperatures occasionally get as low as -30 degrees Fahrenheit. For this reason, you should check weather forecasts on the radio or television before leaving home during the winter season. It is very important that you have warm boots, a heavy coat, a hat, and warm gloves. When temperatures are below freezing (32 degrees Fahrenheit), make sure to protect all exposed skin, including the face. Severe weather can continue well into the month of April. Weather can change very suddenly, so several layers of clothing are recommended for adequate protection when walking in freezing temperatures. This includes a winter coat, warm hat, thick gloves and winter boots. A product called "Thinsulate" is used to make very warm coats, and it can be washed in the washing machine. Hats and gloves are warmest when made of wool, and many now have an inner lining made of cotton or polypropylene to make it more comfortable next to your skin.
Parks
Recreationally, Minot has a total of 17 parks situated around the city. One of the two largest parks is Oak Park, which consists of large oak trees, small water park for children, and a river through the park along side the walk/run trails. Roosevelt Park is largest park in Minot consists of historic statues next to the pathway with beautiful streams of flowers. In addition to its scenic pathways Roosevelt Park has a Zoo across the river. The Roosevelt Park Zoo is a way to spend a beautiful afternoon browsing around in the sun with friends enjoying the 70 different animals.
Shopping
The Dakota Square Mall is also a way to spend time and money with its 70 stores you'll find whatever you need. Also the Carmike Cinema is also in the mall where you can check out the latest films.
For more information on the Minot area, visit the following websites: