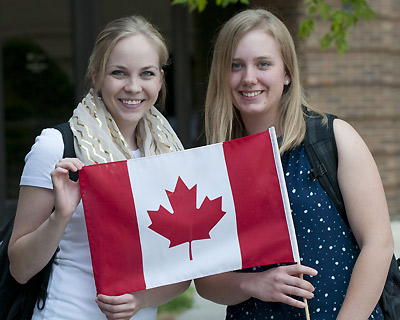 First Year Canadian Student Application Checklist
Canadian students who have not already completed more than 24 credit hours of university level course work are considered FIRST YEAR STUDENTS. Students who have complete 24 or more credit hours of university level course work MUST apply as transfer student.
$35 U.S. application fee
If you didn't already pay your application fee online when you submitted your application, you may call Enrollment Services at +1-701-858-3350 with your credit card information. You may also pay by a U.S. check or money order. Make the check or money order payable to Minot State University and note the applicant's full legal name as it appears on driver's license/passport.
    
Current high school transcripts
One copy at the time of application and a final official government issued transcript after completion of high school.

*Your marks will be converted to GPA and must meet our admissions standards


SAT or ACT results
ACT Minimum score required for admission: 17
SAT minimum score required for admission: 820 
       
        *If you took the SAT test after February 2016, the minimum SAT Total score required is 900.
          If you have questions, please call Enrollment Services.

        For testing information:
        www.act.org
        www.collegeboard.org
  
Proof of English Language Proficiency
Applicants who did not complete their prior education in English must submit proof of English language proficiency.
 
Photocopy of the page containing your personal information from your Passport.
This information will be used to create your form I-20.
   
Send Application Materials to:
Enrollment Services
Minot State University
500 University Ave West
Minot ND 58707 USA
  
Fax: 701-858-3888
   
Mailing Timeline
On average it can take up to 14 business days to reach certain destinations in Canada. While applying at Minot State University take in consideration the mailing time of documents and plan ahead.
  
Application Deadlines
For best consideration for admission be sure to submit your application by the following deadlines:
     

Fall semester (August start)

: Submit your application and all supporting documents by July 15.
     

Spring semester (January start)

: Submit your application and all supporting documents by October 15.
Notification of Application Status
You will receive an email notifying you of your admission status within two weeks after you submit all of the required documents. Full acceptance is not granted until all requirements are met. Upon receipt of all required documents and offer of acceptance, you will receive instructions on how to register for Connect Orientation. At Connect you will meet with an advisor, register for classes, and connect with fellow MSU students.  In the meantime, please check out Steps for Admitted Students and the New Student Roadmap.


Page last update: June 13, 2018