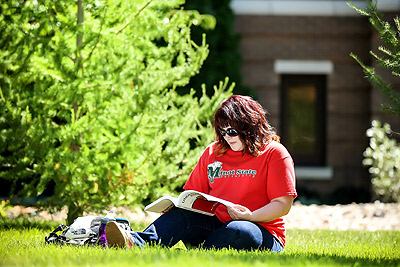 Master of Science in Special Education
The Master of Science in Special Education fulfills licensing requirements in the State of North Dakota and North Dakota is part of the National Association of Directors of Teacher Education and Certification (NASDTEC) Interstate agreement. Due to complex licensure requirements that vary by state and are constantly changing, Minot State will determine on an individual basis if our program will meet a state's licensure requirements. If you are interested in determining if the MS in Special Education can meet your state's requirements for licensure, please contact Minot State Online. To find your state's licensing agencies and review their requirements, please refer to the list of licensing agencies by state on the NASDTEC web site.
Admission Standards:
Undergraduate requirements:  bachelor's degree in education or related field  *some concentrations require teacher licensure
GPA-cumulative: 2.75 or 3.00 in most recent semesters contributing to 60 semester hours
English Proficiency (Non-Canadian International Applicants Only):  TOEFL:  79;  IELTS:  6
Application Packet Deadlines:

Summer/Fall: April 15
Spring: November 15 
Delivery Method and Schedule:
SPED courses are delivered on-line only
This program is not eligible to international F1 visa students due to the online component
Core Requirements
Special Education faculty members believe that graduate study should provide a strong foundation in theory, research, writing skills, and measurement. Therefore, all students seeking MSU's Master of Science Degree in Special Education must include these core courses in their program of study:
| | |
| --- | --- |
| SPED 501 Intro to Graduate Studies | 3 credits |
| SPED 503 Stat in Special Education | 3 credits |
| SPED 505 Consultation and Supervision in SPED | 3 credits |
| SPED 510 Intro to Disability Services | 3 credits |
| SPED 531 Theoretical Aspects of Exceptional Children | 3 credits |
| SPED 533 Clinical Practice | 2 credits |
| SPED 550 Special Education Assessment | 2 credits |
| SPED 588 Thesis Writing Seminar | 3 credits |
| SPED 599 Thesis | 1-3 credits |
Culminating Requirements:
All students seeking the Master of Science Degree in Special Education at MSU must successfully complete an approved program of study and a thesis (SPED 599).
Exit Requirements:
All master degree candidates must take the Special Education Praxis 2 exam appropriate for their chosen emphasis area.
Concentration Areas:
Certificate Programs:
» Course Descriptions
» Master of Science in Special Education program website
Program Director:
Dr. Holly Pedersen
holly.pedersen@minotstateu.edu
701-858-3846