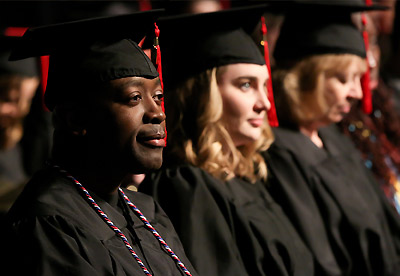 Tuition Awards, Assistantships, and Scholarships
The Graduate School and specific graduate programs offer students a number of ways to seek financial assistance to further their graduate education.
Tuition Awards

Tuition Awards are available to new graduate students. Admitted students should inquiry with their Program Director for department availability by April 1 of each year. To be eligible for consideration, applicants are required to be:
Enroll in six (6) or more on-campus graduate course credits
Fully admitted into a MSU graduate program
Assistantships

The Graduate School offers graduate teaching and research assistantships each year.  Admitted students should inquiry with their Program Director for department availability each semester.  Applicants are required to submit the Graduate School Assistantship Application to their Program Director.  To be eligible for consideration, applicants are required to be
Fully admitted in a MSU graduate program
Enrolled in a minimum of 6 graduate credits
In good academic standing
Selected by their department program faculty for a specific assignment and be approved by the Graduate School Assistant Dean

» Graduate School Assistantship Application

Scholarships

Several MSU Departments may have additional scholarships which are offered on a year-by-year basis pending availability of funds. Students may contact the Financial Aid Office at 701-858-3375 or their respective Program Director for additional information.
As per the Financial Aid Office, most departmental scholarship selections are made from the applications received by February 15 of each year.  Applications will continue to be accepted after February 15 however most scholarships are granted by the department for those who met the initial February 15 yearly deadline. 
College of Business (COB)

For those applying to a College of Business Scholarship, applicants will also be required to complete the COB application which is located on the COB website.

Bruce and Diane Walker: Open to full-time COB students
Doris A. Slaaten: Open to students with a GPA of 3.0 in financial need
E. James McIntyre: Open to full-time COB students; minimum GPA of 3.0 with preference to those participating in MSU Athletics
Jan Barlow: Open to COB students
MSIS Scholarship Endowment: Open to MSIS graduate students enrolled in at least 6 credits with a GPA of 3.0 or greater
Randy & Pat Burckhard:  As per the Alumni Office, awarded to Business Administration majors on a quadrennial basis
Richard L. Muss Business: As per the Alumni Office, awarded annually to full-time COB students who are residents of N.D.
Robert Torgerson: Open to full-time MSU students in the COB
Yvonne Schultz: As per the Alumni Office, open to COB graduate students
Communication Disorders-Speech Language Pathology
North Dakota Speech, Language, and Hearing Association: Open to graduate and undergraduate students of a least junior status majoring in communication disorders.
Minot Sertoma Club: Established by the Minot Sertoma Club to aid students in hearing and speech. One scholarship is awarded each year to a student in education of the deaf and one to a student speech pathology, both on the basis of scholarship and need.
Hearing and Training Center: Scholarship for graduate students in Communication Disorders minimum GPA is 3.5.
Edna Gilbert: Open to anyone majoring in Communication Disorders.
North Dakota Department of Instruction: Open to students who agree to be employed in a North Dakota school following graduation.
Dr. Audrey Lunday: Open to a first year graduate student who is a single parent or student from abroad whose intent is to be employed in a medical setting.
St. Joseph's Community Foundation: Open to a graduate or undergraduate student studying communication disorders.
Music
Ruth Schell Overholser Fellowship: Established for the benefit of graduate students pursuing the study of music.  Students must be enrolled as a graduate student in the Division of Performing Arts at MSU, demonstrate financial need, and academic achievements and maintain a GPA of 3.0. 
Special Education

Elsie May Deeter Hearing Impaired Scholarship: Established by Elsie May Deeter, who spent her entire teaching career working with the hearing impaired. It is for the benefit of hearing impaired students or those students studying to be a teacher for the hearing impaired.
Florence Lake Scholarship: Established by Florence Lake, a leader in education of the hearing-impaired children who was instrumental in establishing the program at Minot State University. This annual scholarship is awarded to students in education of the deaf on the basis of academic achievement and financial needs.
Frances V. Leach Scholarship: Established by the late Mrs. Thomas W. Leach of Towner, North Dakota, and Tulsa, Oklahoma, to encourage and support special education. Priority is given to a graduate student from Towner or McHenry County majoring in learning disabilities. If no graduate student applies, the scholarship will be awarded to an undergraduate student from Towner or McHenry County majoring in special education.