Financial Aid FAQ - Processing Aid
Verification is the process the school uses to confirm the accuracy of data reported on a student's FAFSA. MSU must verify this information before you are awarded financial aid.
Each year the U.S. Department of Education randomly selects a percentage of the University's population to complete the Verification process.
Typical documents required are copies of student and/or spouse or parent prior prior year federal tax return transcripts and a verification worksheet, MSU may request additional documents to fully verify your FAFSA information.
If you are selected for verification, MSU will send you a request for required documents by mail or to your MSU email account. The list of required documents is also available in your To Do List on Campus Connection.
The IRS Data Retrieval Tool (DRT) is a function in the student's FAFSA where students and/or parents who filed a IRS tax return have the option of directly transferring required tax data from the IRS database directly into the student's FAFSA.
We encourage students and parents to use the IRS DRT to update tax information to the FAFSA for timely and accurate data.
You should not use the DRT if the following conditions apply:
You filed an amended federal return
Your federal tax filing status is married, filing seperately
You filed a foreign tax return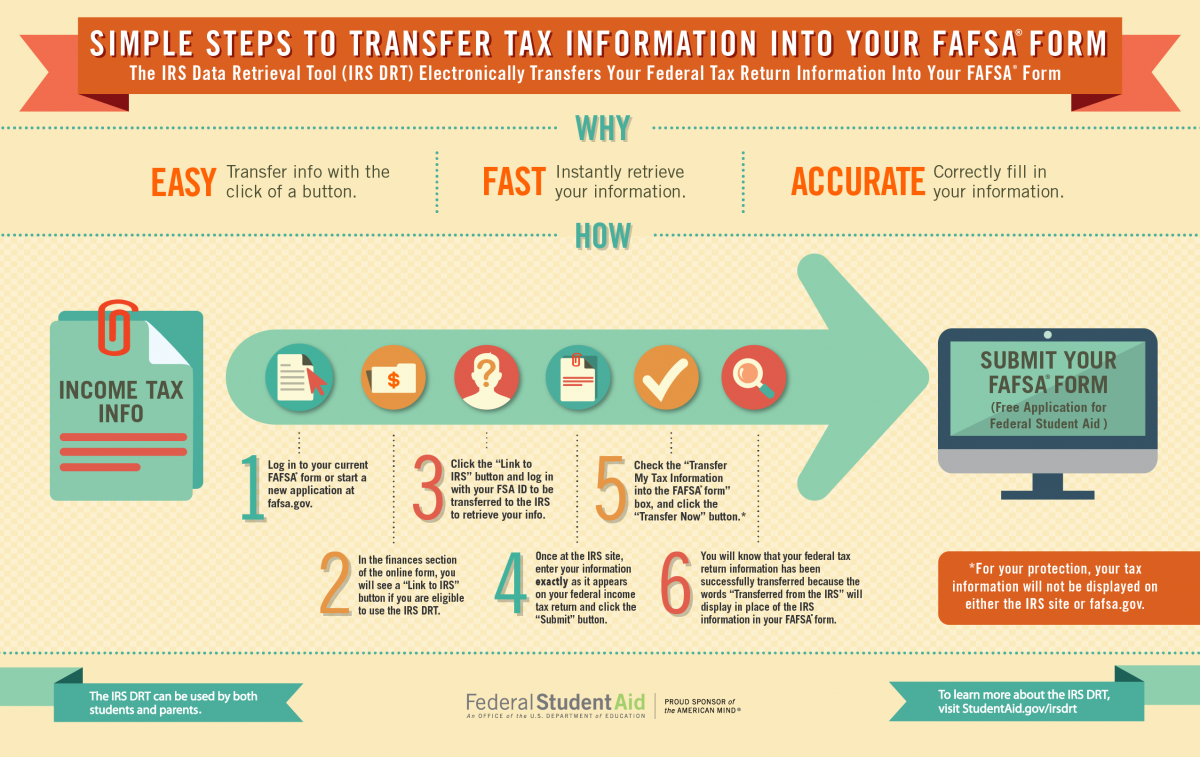 IRS Tax Return Transcripts my be requested online, by mail, by phone or in-person. Make sure to request the IRS Tax Return Transcript and NOT the IRS Tax Account Transcript.
Online Request:
Go to IRS.gov and click "Get Transcript Online". Immediately displays PDF version of the Tax Return Transcript, Record of Account Transcript, Wage & Income Transcript or Verification of Non-Filing for users to view, print and/or save. Requires additional authentication to establish user account.
Mail Request:
Go to IRS.gov and click "Get Transcript by Mail". Transcripts arrive in 5 to 10 calendar days at the address the IRS has on file for you.
Phone Request:
Call 800-908-9946
Follow prompts and enter Social Security # and Address
Choose "Option 2" - request an IRS Tax Return Transcript, enter appropriate tax year
In-Person Request: