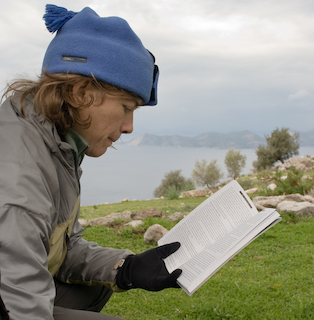 Dr. Cathryn Halverson
Assistant Professor
Office: 141 W Hartnett Hall
Email: cathryn.halverson@minotstateu.edu
Phone: 858-3171

Education
B.A.: Williams College
Ph.D: University of Michigan
 Courses Taught
English 110 (Composition I)
English 120/121H (Composition II)
English 261 (Foundations in American Literature I)
English 262 (Foundations in American Literature II)
2018-2019 marks my first year teaching at MSU and living in North Dakota, and my first time in a long time in an American classroom. After completing my graduate work, I taught for many years as an associate professor of English at a small liberal arts college in Kobe, Japan and as an associate professor of American Studies at the University of Copenhagen, Denmark. I continue to try to keep a foot in Europe and Asia as well as the U.S., although that leaves me one short.
I am always in the middle of writing something and reading other things, so the same questions and problems that concern you concern me, too. My main research field is women writers of the American West, with books on the subject that include Maverick Autobiographies: Women Writers and the American West (UP Wisconsin, 2004), Playing House in the American West: Western Women's Life Narrative (UP Alabama, 2013), and Faraway Women and The Atlantic Monthly (forthcoming from the University of Massachusetts Press). Most recently I have begun a biography of the African American travel writer Juanita Harrison. Born in Mississippi in 1887, Harrison traveled the world while supporting herself as a domestic worker: in her words, "I planned my life at 11 at 13 I began to live it a little like I had planned then at 21 I had it just right and at this moment am enjoying those planes and I have it all set up until I die."
At MSU I teach courses in composition and American literature and culture. One goal is to teach students the skills they need for academic writing and the study of literature-- crafting a grammatical sentence, analyzing a poem. My broader goal, however, is to model intellectual curiosity and the investigation of our unthinking everyday practice, especially how we speak, write, read, and interpret. I once asked my 110 section to explain the difference between a word and a sentence ("go" vs. "Go."), leading one student to burst out, "It seems so simple but it's so hard!"--exactly the effect I seek.