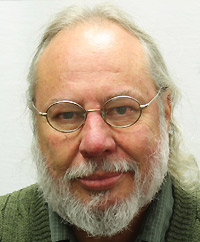 Dr. Ron Fischer
Director, English Education Program
Office: 317 E Hartnett Hall
Email: ron.fischer@minotstateu.edu
Phone: 701-858-3174

Credentials:
AA:  Montana College of Science and Technology
BSE: Western Montana College
MFA: University of Montana
DA:  Idaho State University

Courses Taught:
English 110 & 120 (Composition 1 & 2)
English 211: Introduction to Creative Writing
English 411: Advanced Creative Writing
English 265: Native American Literature
English 232: Mythology
English 231: Bible as Literature
English 3125: Technical & Professional Writing
English 390: Secondary Language Arts Methods

More about Dr. Fischer:
Dr. Fischer pursued a career in writing and higher education because he believes he loves to laugh, and has found that Native American storytelling, as well as all storytellers, love to make others experience the joy of life through laughter , even when that joy and laughter comes struggles through tears and pain. As our national writer, the Couer-d'Alene/Spokane Indian Sherman Alexie, says in The Absolutely True Diary of a Part-Time Indian: "When it comes to death, we know that laughter and tears are pretty much the same thing. And so, laughing and crying, we said good-bye to my grandmother. And when we said good-bye to one grandmother, we said good-bye to all of them. Each funeral was a funeral for all of us. We lived and died together. All of us laughed when they lowered my grandmother into the ground. And all of us laughed when they covered her with dirt. And all of us laughed as we walked and drove and rode our way back to our lonely, lonely houses." Writing functions the same way as laughter. Our written words are the silent laughter that bubbles from the core of our being as we encounter the absurdity of our lives or as we discover the joy that can come from the poverty and loneliness of our being.

Dr. Fischer recently became the Director of the Northern Plains Writing Project at Minot State University. The Writing Project invites teachers to participate in the Summer and Advanced Institutes that are held every summer. Teachers receive a stipend that pays for 12 graduate credits and develop strategies for writing projects that their students can use to improve their writing skills, language acquisition, and content learning. These twelve credits can be applied to an M.Ed. degree at Minot State. In addition, teachers have the opportunity of learning from each other and sharing their teaching and learning experiences.

Dr. Fischer has served on the Board of the Mouse River Players and is producer and director of Showcase, a television program interviewing writers, artists, and scholars, and that is aired on Channel 19, a local access broadcast. He is a regular presenter at Rocky Mountain Modern Language Association conference and the Linguistic Circle of Manitoba and North Dakota. He also continues to give readings at the Open Mic night at Books on Main, and is a founding member of the Lostwood Writers, a local writers group.