The Coup
Interested in working on the next issue of The Coup?
Contact Andrea Donovan (Art Department) or Patti Kurtz (English Department) for information about editor positions for the 2022 Coup
We are looking for one art director and one literary director to work together on the Coup
Position includes a $500 stipend
Applications are due by October 11, 2021 to either Dr. Donovan or Dr. Kurtz
Coup Director Application  (PDF file)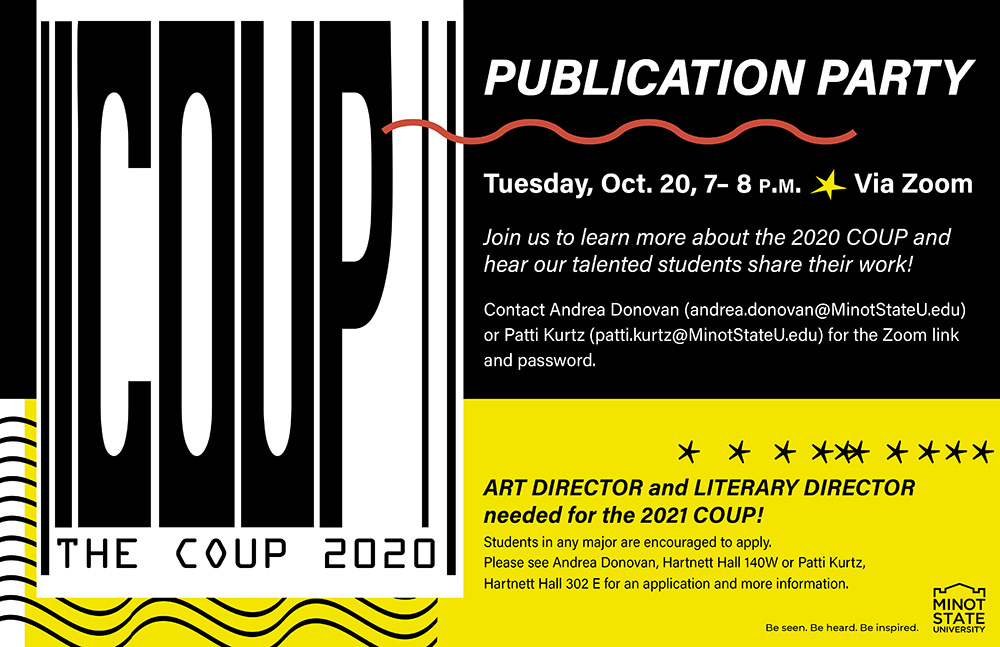 The 2020 Coup is here!

The 2020 edition of the Coup, Minot State University's Art and Literary magazine, is now in print. The Coup has a long history at MSU, dating from the 1960s, and we're excited to continue its legacy. 
Join us for a publication party to celebrate our students' hard work on this issue. 
When: Tuesday October 20, 2020, 7-8 PM 
Where:  Via Zoom
Interested? Contact Andrea Donovan (Art Department) or Patti Kurtz (English Department) for the link
Why: To hear our talented students share their work and learn more about the Coup. 
The party will featured brief presentations and reading from contributors. 
Bring some virtual snacks and join us! 
Archived Issues