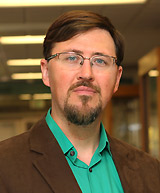 Chemistry
Dr. Christopher Heth
Assistant Professor
Office: Cyril Moore 331
Email: christopher.heth@minotstateu.edu
Phone: 858-3084

Chem 110 – Survey of Chemistry
Chem 115 – Introductory Chemistry
Chem 230 – Quantitative Analysis
Chem 380 – Environmental Chemistry
Chem 420 – Inorganic Chemistry
Chem 430 – Instrumental Analysis
Sci 480 – Senior Seminar
Dr. Heth received a B.S.Ed. degree in Chemistry from Minot State University in 1999. After spending some time working as a middle and high substitute teaching in and around the Minot area, he returned to MSU and completed a B.A. in Chemistry before moving on to North Dakota State University where he was awarded his Ph.D. in 2010, working on electrochemical and computational studies of polymerization mechanisms for conducting polymers.  He then spent a year in a postdoctoral position at the NDSU Center for Nanoscale Science and Engineering, investigating magnetic properties of tetracyanoethylene (TCNE) complexes of vanadium, manganese, and iron. After spending 4 years as faculty at Lake Superior State University in the upper peninsula of Michigan, followed by a year at the private Elmira College in the finger lakes region of New York, Dr. Heth has come full circle, joining the faculty of the Division of Science in 2017, specializing in analytical and inorganic chemistry.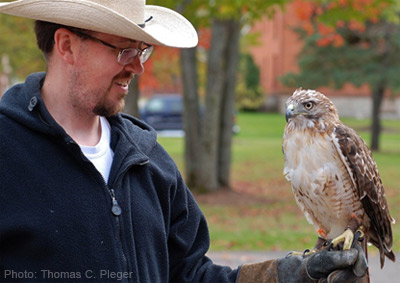 Dr. Heth's has research interests in two distinct areas: materials science and chemical history. Current materials work is focused on derivatives of thiophene, particularly amine-substituted species. These particular species may be useful as model compounds to aid in the design of novel conducting polymer materials. Chemical history interests are currently focused on chemical technologies used in antiquity up to and including the Roman Empire. Studies to describe the chemical processes that occur during conversion of raw skins and hides to leather (tanning) utilizing the brain tissue, as done by the aboriginal cultures of North America for centuries, are ongoing. Also of interest is the chemistry of natural dyes, derived from the madder plant in particular, and the complexes formed when such dyes are fixed with a mordant to fabrics such as wool, linen, or cotton.
Dr. Heth is also the secretary for the American Chemical Society Red River Valley local section, in addition to participating in various science outreach activities including Science Olympiad and MSU's annual Science Open House. In his free time, he enjoys a wide variety of activities, including hockey (both playing and watching), camping, games (board and video), playing bluegrass or rock music on guitar or mandolin, and falconry.
Select Publications:
Chad M. Amb, Christopher L. Heth, Sean J. Evenson, Konstantin I. Pokhodnya, and Seth C. Rasmussen "Thiophene-Fused Nickel Dithiolenes:  A Synthetic Scaffold for Highly Delocalized π-Electron Systems," Inorg. Chem.  2016, 55, 10978-10989.
Christopher L. Heth "The Skin They Were In:  Leather and Tanning in Antiquity", invited chapter in ACS Symposium Series volume 1211:  Chemical Technology in Antiquity, Seth C. Rasmussen, Ed.; American Chemical Society:  Washington, DC, 2016; pp 181-196.
Li Wen, Christopher L. Heth, and Seth C. Rasmussen "Thieno[3,4-b]pyrazine oligothiophenes: Simple models of donor-acceptor polymeric materials," Phys. Chem. Chem. Phys.  2014, 16 (16), 7231-7240.
Christopher S. Olson, Christopher L. Heth, Fikadu L. Alema, Saul. H. Lapidus, Peter W. Stephens, Konstantin I. Pokhodnya "Magnetic transitions and spin-glass reentrance in two-dimensional [MnII(TCNE)(NCMe)2]X (X=PF6, AsF6, SbF6) molecular magnets,"  J. Phys. Condens. Matter  2013, 25, 256004.
Christopher L. Heth, Dennis E. Tallman, and Seth C. Rasmussen "Electrochemical study of 3-(N-alkylamino)thiophenes: Experimental and theoretical insights into an unique mechanism of oxidative polymerization,"  J. Phys. Chem. B. 2010, 114, 5275-5282.
Jon P. Nietfeld, Christopher L. Heth, and Seth C. Rasmussen "Poly(acenaphtho[1,2-b]thieno[3,4-e]pyrazine):  A new low band gap conjugated polymer"  Chem. Commun., 2008, 981-983.