MSU at BSC Graduate Certificate in Management Concepts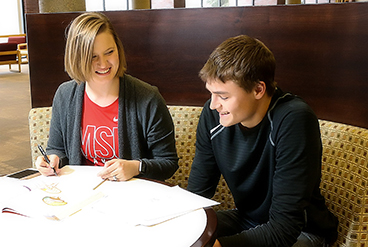 Enhance your career with a graduate certificate focused on three key business concepts: management, marketing, and information systems.
For the first time, Minot State University is offering a graduate program on the BSC campus in collaboration with Bismarck State College beginning Fall semester 2018.
Minot State University's new GRADUATE CERTIFICATE IN MANAGEMENT CONCEPTS is ideal for you, the working professional, to acquire cutting-edge management strategies through a condensed and accelerated plan. Earn this certificate and belong to a network of professionals taking the next step in their careers.
Why choose Minot State for your management concepts certificate?
Flexibility
Two classes will be offered at BSC fall semester; the third class will be offered online in spring 2019.
Classes offered just one night a week on Tuesdays.
Program can be completed in 24 weeks.
No GRE is required.
All courses can be applied toward the master's degree program in management.
Quality
Classes will be taught by Minot State faculty with doctoral degrees and/or professional experience in their respective disciplines.
Through active learning, case studies, and projects, you will gain additional knowledge in organizational resources, marketing functions, and concepts of information systems.
Affordability
Our graduate tuition is affordable compared to other graduate programs.
Your company's tuition reimbursement program may cover some or all costs.
How to Apply
Minimum requirements:
Completion of the MSU Graduate School application at MinotStateU.edu/graduate.
Bachelor's degree.
Undergraduate cumulative GPA of 2.75 or undergraduate last-60-hour GPA of 3.00.
Official transcripts from all universities/colleges attended.
Satisfaction of MSU's English proficiency requirement.
Priority application deadline is July 31, 2018.
This certificate program is not eligible for federal financial aid as a stand-alone program.
This program is being delivered in cooperation with Bismarck State College.
Program Contacts:
Dr. Linda Cresap
Program Chair
Minot State University
500 University Avenue West
Minot, ND 58707
Phone: 701-858-3316 or 800-777-0750 ext. 3316
---
Ms. Jeanne MacDonald
Minot State Advisor
Bismarck State College
1815 Schafer St., 1st Floor, Office 123
Bismarck, ND 58501
Phone: 701-224-2563