Communication Disorders
Minot Cleft Palate Team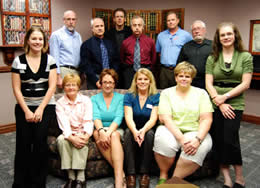 The Minot Cleft Palate Team is sponsored by the North Dakota Department of Children's Special Health Services (CSHS). The Team meets six or seven times during the school year seeing approximately 8-12 children each time. The team is composed of approximately twelve specialists in the areas of dentistry, surgery, speech pathology, social work, psychology, audiology, and nursing. Several MSU faculty members serve on this team. Graduate students in speech pathology are required to attend at least one cleft palate team and may attend more if there is room. Audiology graduate students attend approximately two times per year. The Minot team currently meets at the Minot State University Communication Disorders Clinic on the first floor of Memorial Hall.
The clinics make a positive difference in children's overall care by providing families with the following:
information, education, and reassurance,
diagnostic evaluation and treatment,
coordinated/comprehensive care,
follow-up and monitoring, and
access to specialized medical care.
For an appointment call CSHS at 800-755-2714.
For additional information, review the link: www.ndhealth.gov/cshs/docs/clinic-schedule.pdf