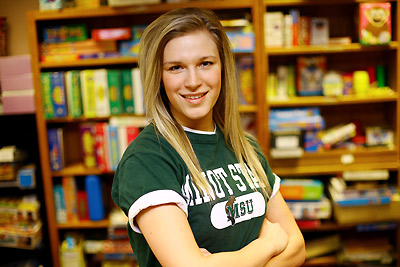 Communication Disorders
National Student Speech Language Hearing Association (NSSLHA)
The National Student Speech Language Hearing Association is a nation wide university organization for students majoring in Communication Disorders.
Minot State University's NSSLHA chapter meets monthly to discuss future and current activities being organized on the campus and in the community. We are divided into many subcommittees, each one in charge of a different aspect of the organization.
Each year, the MSU NSSLHA Chapter hosts a conference for students and professionals featuring nationally recognized presenters in speech pathology and audiology (usually in March).
At the beginning of the fall semester, an open meeting is held to invite NSSLHA members to renew or begin their membership. Minot State University's NSSLHA chapter has a minimal annual membership fee. For more information, contact the chapter advisor at (701)858-3593.