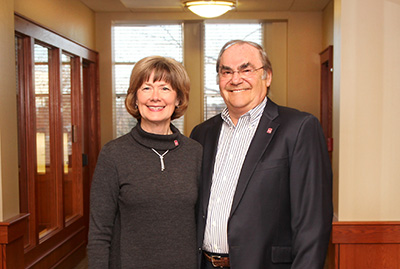 Severson Entrepreneurship Academy
The Severson Entrepreneurship Academy was created as a result of a milestone gift to the Minot State University College of Business on February 9, 2010.
The $1 million donation comes from Clint Severson and Conni Ahart. Severson was chairman of the board, chief executive officer and president of Abaxis, a medical devices company based in northern California. He is the 2007 Forbes Entrepreneur of the Year and a 1973 alumnus of then Minot State College.
On February 9th 2016, Clint Severson and Conni Ahart and the College of Business announced a historic $2 million gift to the Severson Entrepreneurship Academy.  This is the largest gift in Minot State's history.  "When we made our first gift six years ago, I looked at all the possible organizations that I would consider worthwhile investments, Minot State rose to the top, and that has proven to be true," Severson said.  "Our initial investment in the university created a new academy aimed at promoting entrepreneurship and building better business leaders for the present and future.  This $2 million gift will enable the academy to continue expanding its work and guarantee the future of entrepreneurship at Minot State." 
The university received nearly $1 million matching grant from the North Dakota Higher Education Challenge Grant Program.  The additional funds provide:
A Faculty Position for an academically qualified, experienced entrepreneurship professor
A Speaker Series and Campus Events to provide live case studies and promote entrepreneurship in North Dakota
Entrepreneurship major, minor, and certificate. 
Students from all majors can participate in the academy. With the following resources available, students will have the most authentic experience possible as they begin their own business ventures:

Entrepreneurship Club, as mechanism through which students learn a format for analyzing start-up business plans; affiliated with national Collegiate Entrepreneurship Organization (CEO). 
Curriculum focused on knowledge and skills critical for understanding how to start, maintain, and analyze start-up businesses, with emphasis on managing on-line businesses
Internships

Advisory Board composed of successful entrepreneurs to guide and direct the Academy
Finance Club to manage the Seed Money Fund; proceeds distributed to the Entrepreneurship Club
Resource Room as repository for print and electronic resources and software for understanding and analyzing entrepreneurial ventures; base for conducting research about entrepreneurship in North Dakota
Contact Information
Director - Severson Entrepreneurship Academy

Mr. Randy Conway  
Director, Severson Entrepreneurship Academy
College of Business
Old Main 304
randal.conway@minotstateu.edu  

Phone: 701-858-3019
Toll Free: 1-800-777-0750 ext. 3019