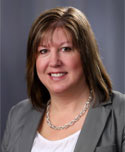 ­ Deanna Klein, PhD
Tenured Professor
Office: Main 302B
Email: Deanna.Klein@minotstateu.edu
Phone: 701-858-3217
Fax #: 701-858-3438

Office hours: 
Preferred contact method: Deanna.klein@minotstateu.edu
Office Hours

| Monday | Tuesday | Wednesday | Thursday | Friday |
| --- | --- | --- | --- | --- |
| 11:00-11:50 | 11:00-12:15 | 11:00-11:50 | 11:00-12:15 | 11:00-11:50 |

Office hours available by appointment at Deanna.klein@minotstateu.edu 
Credentials:
BS (Business Education) Minot State University
MS (Management) Minot State University
PhD (Management with specialization in IT), Capella University
Certified Associate in Project Management (PMI)
Deanna Klein is a professor in the College of Business, Department of Business Information Technology. She has an Associate of Arts from Lake Region State College, a BS in Business Education and an MS in Management from Minot State University, a PhD in Management with a specialization in IT from Capella University, and is a Certified Associate in Project Management (PMI).
Deanna teaches undergraduate and graduate classes in the area of systems analysis and design and project management. She recently taught for 3 weeks at the National Economics University in Hanoi, Vietnam. She is a professional member of the International Association for Computer Information Systems (IACIS), and Informing Science Institute (ISI), is International Assembly for Collegiate Business Education (IACBE) Region 5 Past-President, as well as a member and Past President of Delta Kappa Gamma – Gamma Chapter. 
Deanna also has several years of experience with InfoTech-Minot Technology Center in Public Relations and as an Academic Liaison. This experience has exposed her to Federal Government, Department of Defense, Financial and Media customized software development projects and business relationships. Deanna currently serves on the Board of Directors for SRT Communications in Minot North Dakota and is a member of the ITCND Board of Directors.