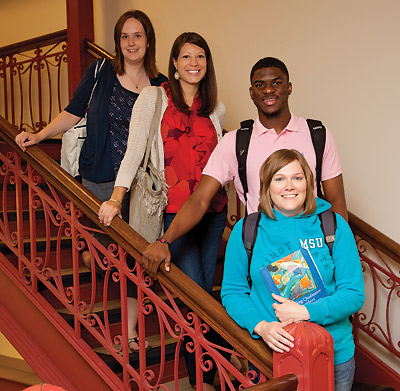 Management Information Systems at Minot State University focuses on the design, development and implementation of technology in today's business environment.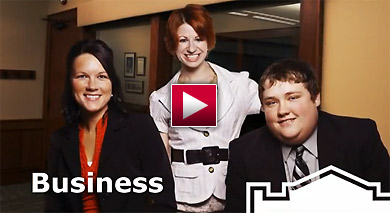 College of Business
Management Information Systems
The Bachelor of Science degree with a major in Management Information Systems is one of several programs offered both on campus and entirely online by MSU's Department of Business Information Technology. Other offerings include:
 Coursework
Core business courses: accounting, economics, statistics, marketing, management, finance, business communication
MIS major requirements: IT infrastructure, Web-site design, Web based application development, system analysis, programming language
Two career tracks: Systems Analyst or IT Manager
What can you do with a MIS degree?
MIS graduates are prepared to work in a variety of IT settings as system analysts, IT managers, Web designers, webmasters, IT coordinators, IT trainers, network specialists, database designers and more.
Internships
MIS students apply classroom knowledge to real world settings through internships. Many internships are initiated by employers, but students may seek out and develop their own internship opportunities. Internships may be full time, part time or project oriented. All internships provide students with great hands on learning opportunities and some lead to offers of employment.
Is a Management Information Systems degree right for you?
Individuals who enjoy careers in Management Information Technology are highly organized, detail-oriented, analytical, and have excellent interpersonal and management skills. They are multi-taskers, remain calm under pressure, and are sensitive to issues of confidentiality.
Employment outlook
As organizations around the world rely more heavily on computers to do business, computer systems analysts, network and computer systems administrators are expected to be in demand through 2020. Employment opportunities for information systems managers are expected to grow about as fast as average for most jobs.
College of Business
The College of Business is committed to active learning and preparing students for careers in business. Our facilities include the Slaaten Learning Center, which features a:
Financial trading lab with stock ticker board
Corporate-style board room with video-conferencing equipment
Student study area furnished with computers, flat-screen TVs, café tables and comfortable seating
Meeting room for student organizations and other student groups
Department of Business Information Technology
Business Education at MSU is overseen by the Department of Business Information Technology. The department is dedicated to delivering students the best possible education and personal attention they need to succeed. Please contact us for more information.
To learn more, contact us or better yet, schedule a campus visit so we can meet face-to-face and show you around.
Contact Information
Dr. Lori Willoughby
Professor and Chair of Business Information Technology
MSIS and MED-B Program Director
College of Business
Phone: 701-858-3350 or 1-800-777-0750 ext. 3350
lori.willoughby@minotstateu.edu