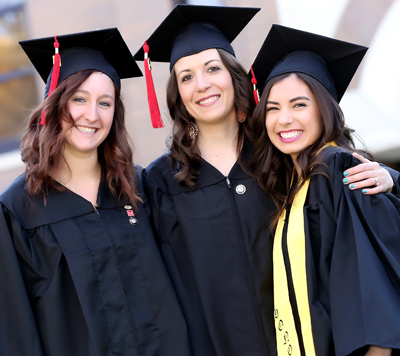 Business education teachers prepare middle and high school students for careers in business through hands-on exercises and experience.
College of Business
Business Education
Business Education Coursework
General education requirements: These required classes will help prepare you to apply to MSU's Teacher Education Program and take the required Praxis tests.
Core business classes: accounting, management information systems, technology management, business communication, keyboarding, website design, desktop publishing, etc. (all classes are offered on campus and online).
Professional education sequence: curriculum planning and assessment, educational psychology, managing the learning environment, methods of teaching business, etc. (several classes offered online).
» BS with a Major in Business Education
» Business Education Minor
» Course Discriptions
Student teaching
All business education students are required to complete 16 weeks of student teaching in a secondary school. As a student teacher you'll be responsible, as much as is appropriate, for the cooperating teacher's entire class load.
Working in a school setting
Teaching is both rewarding and challenging. As a business education teacher you can expect to work regular school hours. You'll also likely work some nights and weekends, preparing lesson plans, grading assignments and tests, and advising student organizations. Most business education teachers have summers off.
College of Business
The College of Business is committed to active learning and preparing students for careers in business. Our facilities include the Slaaten Learning Center, which features a:
Financial trading lab with stock ticker board
Corporate-style board room with video-conferencing equipment
Student study area furnished with computers, flat-screen TVs, café tables and comfortable seating
Meeting room for student organizations and other student groups
Department of Business Information Technology
Business Education at MSU is overseen by the Department of Business Information Technology. The department is dedicated to delivering students the best possible education and personal attention they need to succeed.
To learn more, contact us or better yet, schedule a campus visit so we can meet face-to-face and show you around.
Contact Information
Dr. Lori Willoughby
Professor and Chair of Business Information Technology
MSIS and MED-B Program Director
College of Business
Phone: 701-858-3314 or 1-800-777-0750 ext. 3314
Fax: 701-858-3127
lori.willoughby@minotstateu.edu
Jan Repnow 
Business Education Program Coordinator
College of Business 
Phone: 701-858-3325 or 1-800-777-0750 ext. 3325 
jan.l.repnow@minotstateu.edu