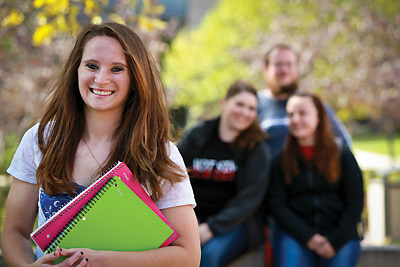 A finance degree can lead to opportunities for employment as a financial advisor, financial analyst or financial examiner.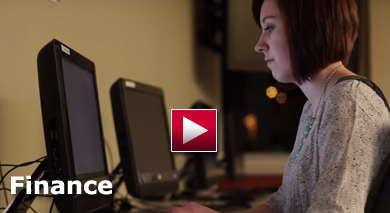 College of Business
Finance
A bachelor's degree in finance prepares graduates with the knowledge and decision-making skills they need to acquire, invest and manage money. We also offer a finance minor, which compliments majors such as accounting and management.
» BS with a Major in Finance
» Finance Minor
» Personal Finance Concentration (Non-Finance Majors)
Coursework
Finance majors at Minot State University begin with the basics of accounting, business, marketing and management and then receive in-depth training in corporate, personal and entrepreneurial finance. Graduates leave with a thorough understanding of the financial process and are prepared to add value to any organization.
What can you do with a degree in finance?
A bachelor's degree in finance can open doors to careers in corporate financial management, financial analysis, banking, investments, real estate, financial planning, international business and entrepreneurship.
Internships
MSU finance students apply classroom knowledge to real world settings through internships. Many internships are initiated by employers, but students may seek out and develop their own internship opportunities. Internships may be full time, part time or project oriented. All internships provide students with great hands on learning opportunities and some lead to offers of employment.
Great employment outlook
Finance graduates will find many opportunities for employment. The U.S. Department of Labor expects demand for the following positions to grow between 27 and 32 percent through 2020:
Financial advisors - Give people advice on how to budget, save for retirement, pay off debt and invest.
Financial analysts - Generally work for investment banks, insurance companies, mutual fund companies, pension funds, or securities firms. Charged with gauging the performance, health, and value of potential investments.
Financial examiners - Responsible for ensuring a company's financial records and tax documents are correct and in compliance with regulations and laws. Most examiners work for the finance and insurance industries or federal and state governments.
Is Finance right for you?
As you progress in your studies you'll find the finance career that best suits your skills and personality.
If you enjoy telling other people what to do with their money-and doing the research to come up with good answers and sound financial plans-financial advising could be your dream job.
Much of a financial analyst's day is spent poring over financial earnings statements and the job is best suited for those who enjoy numbers.
A financial examiner must be a detailed-oriented and able to review large volumes of documents for further review. Examiners may travel to investigate activities of a company and to enforce laws and regulations.
College of Business
The College of Business is committed to active learning and preparing students for careers in business. Our facilities include the Slaaten Learning Center, which features a:
Financial trading lab with stock ticker board
Corporate-style board room with video-conferencing equipment
Student study area furnished with computers, flat-screen TVs, café tables and comfortable seating
Meeting room for student organizations and other student groups
Department of Accounting and Finance
Our department is dedicated to delivering students the best possible education and the personal attention they need to succeed. To learn more, contact us, or better yet, schedule a campus visit so we can meet face-to-face and show you around.
Contact Information
Jay Wahulnd, CPA
Assistant Professor
Chair, Department of Accounting and Finance
701-858-3207 or 1-800-777-0750 ext. 3207
jay.wahlund@minotstateu.edu