College of Business
Pi Omega Pi

Pi Omega Pi is the National Business Education Teacher Honor Society, which has the purpose of promoting scholarship and service in the area of business education. For over 80 years, Pi Omega Pi has provided its members with a variety of services pertaining to business education.
POP Constitution [pdf]
National Website: www.piomegapi.org
Please join us at our next meeting:
TBA

2016-2017 Officers
President: TBA
Vice President: TBA
Secretary/Treasurer: TBA
Advisor: Ms. Jan Repnow
701-858-3325, Old Main 302E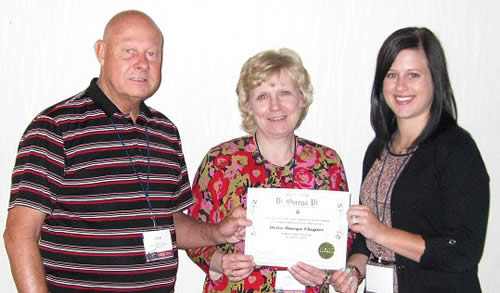 50 Years Recognized
The Delta Omega Chapter of Pi Omega Pi at Minot State was recognized for its 50th year as a chapter by the Pi Omega Pi National Council. Dr. Ivan Wallace made the presentation at the 2014 National Business Education Association Convention held in April in Los Angeles. Accepting the recognition certificate is Jan Repnow, Delta Omega Chapter Advisor. Samantha Shirley, National Student Representative, looks on.