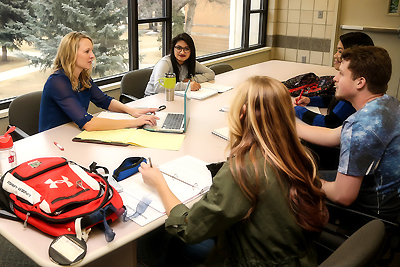 Parent Information
As a parent of a first-year student, you may feel overwhelmed by all of the information that you and your student need to know prior to attending Minot State University, as well as within the first year of attendance. This website is designed to give you information on resources that can assist you and your student through the first year of college.  Please utilize these campus resources as they have been designed to assist the transition from high school to higher education, ultimately allowing your student to be more successful.
Do I need permission to be able to access my student's financial aid records since I am paying the bill? 
The Family Education Rights and Privacy Act (
FERPA
) of 1974 mandates that information contained in a student's educational records must be kept confidential. 
Please be aware that confidential information includes, but is not limited to the following:
Student's class schedule
Academic progress in a particular course
Grades (Transcripts)
GPA information
Student ID number—may not be posted in any manner
Social security number—may not be posted in any manner
Confidential information should not be given to the parent of any student unless he/she verifies with the registrar's office that the student has provided written permission.
If your student decides that they would like to give you access to their records, they can fill out the Financial and Academic Records Consent to Release Form. 
Where can I go for more information about financial aid?
Financial aid information can be found on the Minot State University Financial Aid website.  On this website, you will find the Title IV School Code, up-to-date financial aid information, a list of important dates, scholarship funds and much more.
Although Minot State University does not experience a significant number of crimes, it would not be honest to say that crime does not happen on campus.  To prevent such incidents, a competent residence hall staff, professionally trained security officers and the students themselves are responsible for a number of measures to ensure that the students and their possessions are protected as much as possible.
For more information, including the Emergency Response Guidelines, Crime Statistics, Security Policies and Procedures, Residence Hall Security, and Student Responsibility, please visit the Minot State University Safety and Security website.
There are several policies that you and your first-year student should be aware of as you plan for the first year of college.
Freshman Housing Policy - Experience shows that students who live on campus are more likely to complete their degrees, are more involved with university activities, and graduate at higher rates than students living off campus. The purpose of this policy is to provide Minot State University's first-year students the best possible start to their college careers.
Immunization - The North Dakota University System requires all students born after Dec. 31, 1956 to provide two proofs of immunity to rubeola (measles), rubella (German measles), and mumps prior to registration for classes. Official documentation must be submitted to the Student Health Center.
Withdrawal Procedures - When withdrawing (canceling all enrollment at Minot State University), refund considerations are made based on the date the withdrawal is processed and the classes that you are still enrolled in at the time of withdrawal.
Financial Aid Policies - Federal regulations require that schools participating in the Title IV student financial aid programs are required to apply reasonable standards for measuring a student's progress towards completing their course of study.

Return of Funds Policy (pdf) - Students who withdraw from school and who have received federal funds may have to repay a portion of those funds back to the federal aid programs.
The Student Handbook is also a valuable resource for your first-year student to review policies and procedures that will influence and affect their higher education experience, including:
Academic Dishonesty
Class attendance/Attendance Policy
Communications Proficiency Policy
Student Complaint Policy
Rights to Privacy
Computing Policy and Procedures
Drug Free Campus Policy
Parental Notification Policy
Policy on Activities
Student Conduct Policy
Tobacco Free Campus Policy
Policy on Sexual Harassment
Policy on Sexual Assault
Policy on Significant Infectious Diseases
Yes!  There is no charge for an on-campus consultation with the health care staff. Students are responsible for any additional expenses for such services as procedures, diagnostic tests, radiology, laboratory and other fees. The North Dakota University System requires all students born after Dec. 31, 1956 to provide two proofs of immunity to rubeola (measles), rubella (German measles), and mumps prior to registration for classes. Official documentation must be submitted to the Student Health Center. Appropriate proof may be a copy of your childhood immunization records, school Immunization records, documentation by your medical provider (personal physician, pediatrician or county health department) that you had the respective disease(s) or the immunization, and the dates.

For more information about the services Student Health provides, follow the links below:
The goal of Counseling Services is to help students develop effective solutions and decision making capabilities in order to return to their normal functioning as soon as possible.  Counseling Services provide help for people who are experiencing emotional problems that interfere with their work, school, or personal lives. Some typical difficulties that student's bring to counseling:
Excessive anxiety for no apparent reason
Prolonged feelings of despair, unhappiness, or hopelessness
Withdrawal or lack of interest in daily activities
Sudden shifts in mood and/or behavior
An unusual amount of irritability or suspiciousness towards other
Eating or sleeping differently
Drinking too much or using/abusing drugs
Physical, sexual, emotional abuse by others.
Thinking about suicide