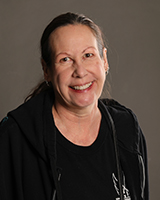 Art Program
Dr. Andrea Donovan, Ph.D.
Associate Professor
Office: 140 Hartnett Hall
Email: andrea.donovan@minotstateu.edu
Phone: 701-858-3819

Ph.D. in European and Art History
Courses taught:
ART 110 Introduction to Art
ART 210 Art History I
ART 211 Art History II
ART 201 Art Methods for Elementary Education
ART 219 Native American Art
ART 310 Modernism
ART 311 Postmodernism
HUM 251 Paleolithic to Medieval
HUM 252 Medieval to the Eighteenth Century
HUM 253 Eighteenth Century to the Present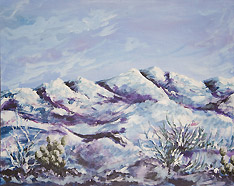 Artists Statement:
I love to travel and look at the land, the mountains, the water, and the skies. Every place has such unique characteristics. These combined characteristics invoke the spirit of the place, the essence of what makes that place beautiful. In my paintings, I try to capture this essence. For me, it is not about depicting a place only in the way it appears, but also trying to capture that unique spirit. Through my use of imagery, color, and paint application, I try to bring this spirit to viewers.
Bio:
Andrea Donovan has taught art history and humanities at Minot State University since 2007. She has a Ph.D. in European and Art History from Western Michigan University in Kalamazoo, Michigan. Her degrees include work in painting, design, art education, art history, architectural history and historic preservation, European history, and cultural studies. Teaching experiences range from elementary and secondary art education to post-secondary work with art history, European history, and the humanities. Research experiences include a book publication titled "William Morris and the Society for the Protection for Ancient Buildings," several journal articles, and current research in symbolism in historic paintings and historic preservation and architecture. Active in Michigan and Arizona in painting, photography, and singing, she continues her artistic pursuits in Minot by painting, working on her photography, and participating in the Minot Chamber Choral. University service includes work with the General Education Committee, the Sustainability Committee, and the Women's Heritage Month Committee. She also is the Art Club advisor and is a Taube Art Museum Board Member.