Roommate's secret crush contributes to lifelong love affair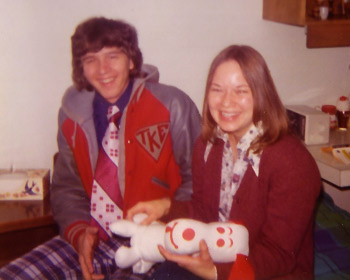 We enjoyed receiving the Valentine's card and we always love telling our story of "how we met!"
I had a high school teacher who claimed the only reason women went to college was to get married. I never expected that would happen to me, as I valued the power of what higher education could provide. I watched my mother return to college to complete her elementary education degree after my father died, and felt very strongly that I would need an education to remain self-sufficient, and not have to depend on a man to provide life's needs or wants!
On the other hand, it seemed as if there was only one man whom fate had in mind for me! During my senior year at Oak Grove Lutheran High School in Fargo, MSU's Vagabond Men's Chorus provided inspirational music during Chapel. Bob sang the featured solo in "Amen" and blew us away with his beautiful tenor voice. A close friend of mine who knew him wanted to introduce me, but I had no interest in being part of an adoring "fan club." That following fall, I happened to be paired with a roomy who was smitten with Bob!
As a freshman cheerleader, I found myself leading the crowd, with Bob on my left during the Homecoming football game, leading what we called the "Silent Cheer." With voices raw from cheering our beloved Beavers onto victory, we started the crowd clapping as one, while Bob, and several of his fraternity brothers, joined us in front of the fans.
Later that fall, my roommate sent me over to the TKE house to get to know him on her behalf! Several of us from Cook Hall walked over and as it turned out, Bob met us at the door, recognized me as one of the cheerleaders, and spent the entire evening talking to me.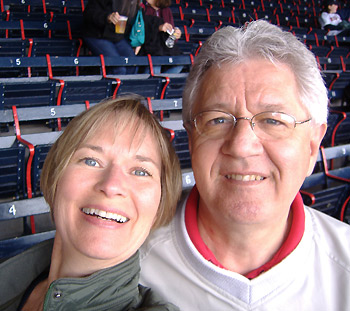 The rest is history, as it seemed everywhere I went, Bob turned up: the music hallway at noon, the library, the basketball games. After a whirlwind romance, we were married the following June! I worked full-time to help Bob finish his senior year. He encouraged me to finish my education seven years later.
After more than 35 years of marriage, two beautiful children, and fond memories of our college days, we wouldn't change a thing. We both continue to enjoy attending and supporting MSU concerts and sporting events to this day!
Bob Demke ('75)
Brenda Demke ('81)
Minot, ND