Sentimental campus courtship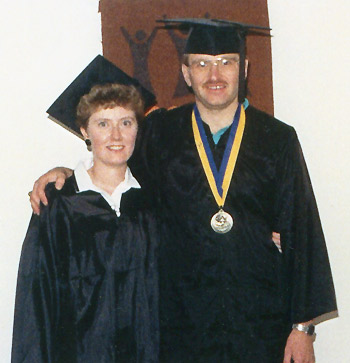 My husband, Paul and I met at Minot State 25 years ago in the spring of 1988 at the Catholic Newman Center. There was a social and I happened to wander down into the basement where he was all alone hitting a ping-pong ball against the wall. He challenged me to a game and we talked for over an hour!
We didn't date until a year later. We hung out with other friends at the Newman Center and sometimes would attend mass together at Little Flower. At the end of the year, he got up the courage to ask me to a dance at the Union, and we went. We danced to the Nitty Gritty Dirt Band song "Dancing in the Dark" -- a song we later danced to at our wedding. He walked me back to Dakota Hall and we shared a first kiss! The rest is history.
I worked in the cafeteria and Paul had a full meal plan, so every night he would come in. The ladies I worked with would tease me because I seemed to have a "sixth sense" of when he walked in the door. They would usually let me sit down and visit with him before getting back to work.
Another great memory is that Paul lived in Lura Manor across from Dakota Hall, so almost every day he walked past my window. He often would throw pencils or something else at my window to get my attention. A few times, he serenaded me from the sidewalk! I remember some of the girls in the dorm being jealous and wondering whose boyfriend was singing to his girl! The song he would sing was "Deeper Than The Holler," by Randy Travis. This became "our song," and was also played at our wedding. I often would take fake snow in a can and write him a message on the window.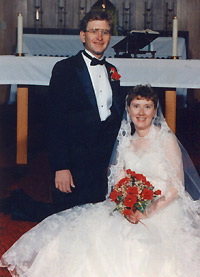 We have so many wonderful memories of our courtship at Minot State. The summer after we graduated, Paul proposed. We moved to Kansas and married a year later, in1991. We have two wonderful daughters, ages 18 and 14, and live in Bismarck.
We were saddened that the Catholic Newman Center is no longer around. We consider that the starting place of our love and friendship.
Paul Verlinde ('90)
Mary (Casey) Verlinde ('90)
Bismarck, ND