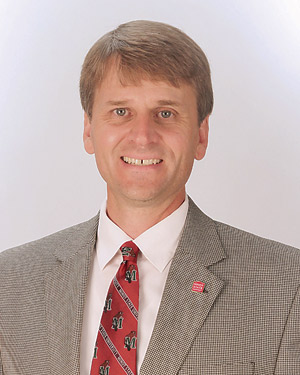 Dr. Steven W. Shirley
President
The North Dakota State Board of Higher Education appointed Steven W. Shirley, Ph.D., president of Minot State University on February 27, 2014. He began serving as MSUís 11th president on July 1, 2014, leading the university into its second century of service. As the president of Minot State, Dr. Shirley also has oversight for Dakota College at Bottineau, a two-year college affiliated with MSU and located 80 miles northeast of Minot. Between the two campuses, there are more than 4,400 students, 450 full-time faculty and staff, and approximately 800 part-time staff and adjunct faculty.
Prior to joining Minot State University, Dr. Shirley served as president of Valley City State University from 2008 to 2014. Earlier in his career he was vice president and dean for student affairs at Dakota State University in Madison, S.D., and an assistant professor of business and director of study abroad at the University of Minnesota, Crookston. He has also taught part-time at the University of North Dakota and South Dakota State University.
Dr. Shirley is a member of the Minot Rotary Noon Club and previously served as club president of both the Valley City and Crookston Rotary Clubs. He currently serves on the North Dakota March of Dimes board of directors, and is an ex-officio member of the Minot Area Development Corporation, the Minot Chamber of Commerce (and serving on the Military Affairs Committee), and the Minot State Development Foundation. Shirley served on the Valley City-Barnes County Economic Development Corporation board as well as the boards of directors of the Crookston and Madison Chambers of Commerce. He has been a Junior Achievement volunteer, has taught English to adult learners abroad, and has led several student and faculty groups overseas on cultural and exchange visits. He is a strong advocate for international education and study abroad, the focus of his Ph.D. dissertation research.
Dr. Shirley currently serves on the board of directors of the NCAA Division II Northern Sun Intercollegiate Conference. He previously served on the National Association of Intercollegiate Athletics Council of Presidents and chaired the NAIAís National Eligibility Center Oversight Committee.
Previously, Shirley served on the Region IV-West Advisory Board for the National Association of Student Personnel Administrators (NASPA), chaired the Dakota Athletic Conference, and served as organizing chair for the North Star Athletic Association. He has also presented at regional and national conferences, including NASPA, the Association of Collegiate Business Schools and Programs (ACBSP), and NAFSA: Association of International Educators.
A Fargo native, Shirley earned his bachelorís and masterís degrees in business administration and his doctorate in teaching and learning: higher education, all from the University of North Dakota. He completed the Harvard Graduate School of Educationís Institute for Educational Management in Cambridge, Mass. Shirley is a proud, fourth-generation North Dakotan with deep family roots in Minot (his parents are Minot High School graduates).
Dr. Shirley and his wife, Jennifer, are proud parents who are excited to be raising their two small children in Minot. Anna is in preschool and loves Minotís Roosevelt Park Zoo; William is still in diapers, but growing by leaps and bounds. The entire family enjoys attending Minot State events, and Anna is an especially huge fan of Buckshot Beaver!