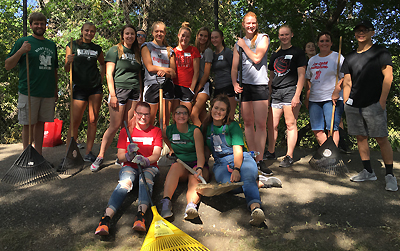 Orientation
Welcome Week Service Activity
As part of Welcome Weekend activities, Minot State University continues the tradition of our incoming first-year students participating in community service activities. During this activity, new students will work alongside other first year students, student leaders, faculty, and staff. Projects include painting, lite yard work, assisting in building habitats for the zoo, replacing lights for an annual winter light festival, and planting trees and flowers. Students will learn about the community partnerships which exist between Minot State University and our community partners.
First-year students are required to participate in one 2 hour service project, as participation and a possible writing assignment will be graded in each of the UNIV 110. Please make sure to make every effort to attend one of the times listed.
Students can participate during the following days and times:
August 18th 2:30 – 4:30 PM
August 19th: 9 - 11:00 AM, 10:00 - Noon, 12:30 – 2:30 PM, and 2:30 – 4:30 PM
August 20th: 1:00 - 3:00 PM and 3:00 – 5:00 PM
August 21st: 9 - 11:00 AM, 11:00 AM - 1:00 PM, and 1:00 - 3:00 PM
If you have not signed up for a service project please come to the red tent in the quad and let them know you need to sign up for a group.
This is a decision you will need to make.  Most students figure out a way to make one of the service activities.  If you do not attend, this will be reflected in your U110 grade.  The instructor of your U110 may elect to offer a make-up session, but this will not be the standard for all U110 instructors.
We will not know what each group's assignment will be prior to the activity, but all participants MUST WEAR:
CLOSED TOED SHOES – NO FLIP FLOPS!
Please wear your "You are Here" orientation shirt!
Clothing you would not mind getting dirty
Jeans, athletic type clothing, and t-shirts are all acceptable
You can also bring a water bottle and snack. 
Cell phone usage will not be allowed during the event, as it is very possible your phone will be damaged.  Please leave it in your bag or in another safe location.
Check-in will be located at the red tent in the quad (between the Student Center and Old Main).  Please arrive 30 minutes prior to your scheduled service time, in order to fill out paperwork (if you do not bring your paperwork with you) and to meet your group leaders.