Greek Life
Mu Sigma Tau
The Mu Sigma Tau Fraternity's revitalization came about as a direct result of a fraternity reunion during Homecoming 2009. A local group of alumni resurrected historical Mu Sigma Tau memorabilia and met weekly to prepare for new members. Seven men completed the first initiation process to become active members. The Mu Sigma Taus have a house across from the campus.
The Mu Sigma Tau Fraternity is the fraternity with the earliest roots at Minot State. It was formed in 1926, just 13 years after Minot State was established. The Greek letters, ΜΣΤ or "Mu Sigma Tau," represent the initials of Minot State Teacher's College, MSU's second name. Many prominent names from Minot State's history are part of Mu Sigma Tau, including J. Bernard Busse, a longtime faculty member, and General David C. Jones, a former chairman of the U.S. Joint Chiefs of Staff.
For additional information about the Mu Sigma Tau Fraternity, contact musigmatau@minotstateu.edu.
To reconnect with Mu Sig brothers, visit the Mu Sigma Tau alumni website at www.musigalumni.org.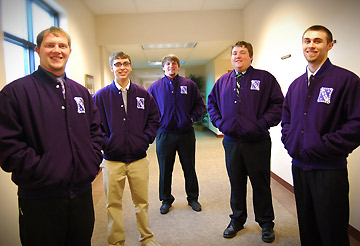 Beta Theta
After a 25-year hiatus, female MSU students proudly wore yellow and orchid pledge ribbons.
Beta Theta alumnae held an informational meeting to gauge student interest on reviving the sorority and discovered interest was overwhelming. After searching old pledge manuals and memories, they recreated a pledge program, and Nancy Fuller, wife of MSU President David Fuller, joined the sorority as an honorary patroness.
On April 29, 2012, 21 young women were initiated into the Beta Theta Sorority, and Beta Theta alumnae from the '30s through the '80s attended the ceremony. Like sorority members who preceded them, the new sorority members actively participate in all campus organizations and understand the importance of civic engagement. As a service project, they sold 653 roses to raise money for the YWCA's flood recovery.
The Beta Theta Sorority, the third sorority on the campus, originally organized January 13, 1928. Through the years, the Betas chose to remain a local sorority, believing this feature best serves the sorority, its members and the school.