Archived Updates
---
September 20, 2011
City manager to be guest at Sept. 27 flood forum
David Waind, Minotís city manager, will be the guest at the Sept. 27 flood forum. Waind will respond to questions, which can be flood or nonflood related. The next flood-recovery forums will be:
Tuesday (Sept. 20) - Aleshire Theater, 8-9 a.m.
Thursday (Sept. 22) - Aleshire Theater, 12:30-1:30 p.m.
Flood forums will continue to be held every Tuesday from 8 to 9 a.m. and every Thursday from 12:30 to 1:30 p.m. in Aleshire Theater unless otherwise noted. Individuals should feel free to ask questions and voice concerns. Anderson, MSUís ombudsman, will follow up to find what solutions are available. To contact Anderson, email flood.anderson@minotstateu.edu or call 858-3169.
---
September 1, 2011
Campus rebounds as classes begin
The first official day of school at Minot State University felt like many others: fresh faced novices full of anticipation, as well as seasoned veterans returning for another year. A walk along the north side of University Avenue shows a picturesque campus setting of red and green banners lining the drive, welcoming friends to MSU. Lush, green, neatly trimmed grass occupies the boulevard, as if attentive care throughout the summer contributed to its beauty. Upon closer inspection though, hydroseed on the lawn belies the recent damage left behind after the 12-foot Beaver dam was removed.
When new crest predictions on June 20 guaranteed flood waters would reach the south end of MSUís campus, no time was wasted deciding whether or not to construct a dike along University Avenue. Roger Kluck, assistant vice president for facilities management, reached out to Ryan Ackerman, Burlingtonís city engineer, for advice.
"Ryan (a partner at Ackerman/Estvold Engineering) advised me what he felt the flood elevation high would be. From that number, I added two feet to allow for freeboard," Kluck said. "I then called Rollie Ackerman (Ackerman Surveying and Associates, Inc.) to get MSUís dike staked to the predicted elevation Ryan had suggested. Ackerman Surveying showed up immediately to help us out."
Kluck also reached out to Jeff Anderson at Excavating, Inc. for help with constructing a dike. Anderson acted quickly and construction crews began working that very afternoon.
"We feel that MSU is a very good customer," said Anderson. "So when Roger called, we dropped everything and came down."
Dropping everything meant reprioritizing projects and recruiting enough manpower to work around the clock until the job was done.
"We had crews working 18, 19, 20-hour days per man constructing the dike," Anderson said. "It was a long week, and we couldnít have done it without the employees we have."
Twenty-four hour efforts throughout the week came to an end during the early morning hours of June 24. Anderson said the trucks were shut off around 3:30 a.m., and bulldozers closed the dike around 5 a.m.
"As the sun came up, we shut the dozers off, climbed the dike and watched the water come up 8th Street," he added.
Today, the memories seem distant as classes resume in full swing, and the calendar fills with activities. Little thought is given to the "what if" by most. But Kluck remembers and is grateful.
"Jeff Anderson and his crew really sacrificed a lot to save our campus," Kluck said.
---
August 25, 2011
Flood recovery
Three key steps in recovering from a flood are evaluating a business or home's foundation and structural soundness before entering, removing water from the basement slowly and removing wet or damp material quickly because mold, which is a health hazard, can grow in one to three days. Some items will be salvageable, but others must be discarded for safety reasons. For more tips from the North Dakota University System Extension Service, visit www.ag.ndsu.edu/flood.
---
August 18, 2011
Beaver Lodge arrives in stages
The first of 10 housing units began arriving from Houston, Texas, Aug. 12. Deliveries of the other nine will continue over the next two weeks, with the final unit scheduled to be in Minot Sept. 2.
Manufactured by Advanced Containment Systems, Inc., the 10-person complexes were built specifically for Minot State University to be used as on-campus housing. Rental shortages in Minot resulted from the recent Mouse River flood.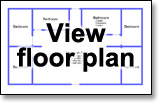 Aptly named Beaver Lodge, each unit is approximately 1152 square feet and contains five bedrooms, a kitchen and dining area, living space, washer/dryer and bathroom with four sinks, two toilets, one urinal and two showers.
Beaver Lodge will be located on the northwest corner of MSUís campus, behind the Gordon B. Olson Library. Resident move in has been tentatively scheduled for the latter part of the week of Sept. 5.
---
August 15, 2011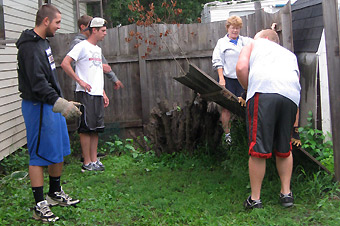 Sherve, Kramer, Fornshell, Magnuson and Hornecker in Sherve's backyard.
A call for strong arms
Margaret Sherve, Minot State University English professor, was one of the many MSU faculty, staff and students displaced by the recent Mouse River flood of 2011. Sherve worked tirelessly getting her house gutted, cleaned, and inspected these past few weeks. But when she needed help on some of the bigger house and backyard tasks she couldnít handle alone, Sherve called MSUís Athletic Department and got five young, strong baseball players at her doorstep ready to work.
"I knew that one of MSUís concerns was with helping the community," said Sherve as she directed the boys around in the rain.
Ryne Hornecker, Alex Fornshell, Ben Kramer, Trevor Gust and Ben Magnuson represented the bunch from Beaver Baseball to lend a hand. To start the morning, they moved a large hot tub from a neighborís house. With help from MSU Beaver Athletics, Sherve will be able to finish cleaning up around her house.
"These baseball boys did a fantastic job working together," Sherve said. "It looks like they will make a formidable team. I am really impressed with their work and really grateful."
---
August 11, 2011
Community safety proactively addressed on campus
Recently a concerned parent contacted Minot State University to inquire about student safety. Read below to learn how MSU is increasing safety measures on campus.
We have been hearing a lot about the crime rate escalating in Minot with all the unfortunate events there. How is MSU addressing some of the safety issues on campus?
Itís only natural to have concerns for the safety of our loved ones. Itís true that Minot has been severely impacted by the flood which has attracted a wide variety of recovery workers, some of whom may have questionable backgrounds. However, do not take as accurate information whatís generated by the rumor mill. The city police force is experienced and dedicated to their job. In addition, Minot State University has been and will continue to be committed to the safety of its students.
In the past year, MSU has taken steps to strengthen campus security as part of an ongoing commitment to proactively address potential problems. Roger Kluck, assistant vice president for facilities management, is transitioning MSU from a campus security program employing a combination of off-duty city police officers and private security guards to an internal police force supplemented by contract security. He recently hired Bill Chew to serve as Minot Stateís first safety and security supervisor. Chew will hire his own staff. He has a gang task force/undercover drug enforcement background and experience as a probation and parole officer. He most recently worked with student retention in a K-12 school system in San Francisco, Calif.
Continued ongoing physical improvements to safety include a campus master landscaping plan that provides a guide to follow in phases as funds allow. An improved east/west corridor through campus began with our new sign on Broadway and will continue this year with the next phase from Cook to Dakota Hall. We also have supplemented security with mounted cameras in buildings and parking lots. Funds have been secured for a blue-light system that should also be installed this year.
MSU is in good shape and will continue to be a quality place to send your children. All departments work very hard to stay ahead of the challenges that arise.
---
August 10, 2011
KXMC Noon Show: MSU's flood impact
On August 9th MSU's President, David Fuller, appeared on the KXMC Noon Show to discuss MSU's flood impact.
» Watch the video at KXMC's website.
---
August 8, 2011
Campus Cleanup Day scheduled for August 12th
We are looking for volunteers to participate in Campus Cleanup Day scheduled from 8 - 11 am, Friday, August 12th. There will be a short kick-off meeting in the Quad by Administration at 8 a.m. Our goal is to pick up trash and pull weeds around campus. Wear your cleanup clothes; gloves will be provided. With this team effort we can make our campus more beautiful and ready for fall semester! If there is rain, we'll postpone until Monday, August 15.
See you at the Quad! For more information, please contact Roger Kluck, Facilities Management (858-3210).
---
August 4, 2011
Student success is primary mission at MSU
Minot State University is dedicated to helping you succeed as a student. To help you get started, we have developed CONNECT (Orientation Part I), a new student orientation and registration program. All new Minot State University students (freshman and transfer) are required to complete CONNECT (Orientation Part I). Parents and guests are welcome to attend the CONNECT events - just let us know how many will be attending when you complete the online reservation!
There have been several successful CONNECT events completed throughout the summer. The following dates remain:
Friday, Aug. 5 - Freshmen CONNECT
Thursday, Aug. 18 - Transfer CONNECT
Friday, Aug. 19 - Freshmen CONNECT
To register to attend a CONNECT session, visit www.minotstateu.edu/orientation
First-year students are also required to sign up for CONNECTIONS, part two of the orientation experience at Minot State University. This experience will introduce you, a first-year student, to campus and community resources vital to your success as a student. You will have the opportunity to choose from two CONNECTIONS, which will occur either on campus or within the Minot community. You can view more information at www.minotstateu.edu/cetl/first_year.shtml
Many new students will be attending MSU this fall. You are welcome to join this new group of students!! It is not too late to enroll at MSU.
---
August 2, 2011
Minot State hosts sixth annual golf tour in Kenmare
Minot State University invites alumni and friends in the Kenmare area to play golf at the Kenmare Golf Club on Aug. 4. This event will be a four-person, nine-hole scramble. Registration will begin at 4:30 p.m., with a shotgun start at 5 p.m. A social will immediately follow completion of golf, approximately at 7 p.m. Non-golfers are welcome to play.
This visit in Kenmare is part of MSU's sixth annual "Summer Friend-Raising Golf Tour." Kenmare is the final stop on the tour, which has the motto of "Golf One or Golf Them All." Prizes will be awarded at the event.
Golfers are responsible for their own green fees and cart rentals. Meals and refreshments will be provided by the course, and purchase is optional.
The "Summer Friend-Raising Golf Tour" is being sponsored by MSU Alumni Association, Advancement Office, Athletic Department and the Marketing Office. Call the MSU Advancement Office to register at 858-3890 or 701-800-777-0750, ext. 3890, or visit the website, www.minotstateu.edu/alumni.
---
August 1, 2011
MSU camps come to a close
Minot State University concluded a successful camp slate with its annual Youth Football Camp on the turf at Herb Parker Stadium Monday.
Despite historic flooding in and around Minot and the university's key buildings housing multiple state and federal agencies along with displaced residents, the MSU summer camp schedule had solid turnout.
MSU's Youth Football Camp was a part of those solid numbers as nearly 50 young gridiron hopefuls worked out with Minot State coaches and players during the two sessions Monday.
Minot State will shift from summer camps into its fall practice schedule Thursday as MSU football is scheduled to begin its first fall practice at 7:30 p.m. at Herb Parker. MSU soccer and volleyball are scheduled for Aug. 14, with soccer holding its first-ever Midnight Madness practice at 12:01 a.m. Monday under the light at the Herb.
---
July 29, 2011
First-year & transfer students to attend CONNECTIONS
Minot State University is currently registering all first-year and transfer students for CONNECTIONS, the second part of the orientation process. CONNECTIONS allows new MSU students to network with other students, staff and faculty, to learn more about campus resources and participate in service learning and engagement activities. Connecting to the campus and community is essential to the success of each MSU student!
CONNECTIONS has two formats; a two-hour on-campus experience, or a full-day experience that includes an off-campus service project. On-campus experiences are scheduled for Aug. 18, 19 and 22. Full-day experiences will occur Aug. 19, 20 and 22. Service projects for full-day experiences include assisting Minot Parks and Recreation with revitalizing a local park and the Roosevelt Park Zoo. Students will also have the opportunity to travel to Lostwood Wildlife Refuge to collect native grass seed to repopulate areas that no longer have native North Dakota grasses.
Minot State University is excited to welcome all new students to campus and provide them with the essential tools and resources they need for a successful educational experience.
For more information, please visit the website at www.minotstateu.edu/cetl/Connections.shtml, or contact the Center for Engaged Teaching and Learning office at (701) 858-4040, or (800) 777-0750, ext. 4040.
---
July 28, 2011
JCEMP & InC graduation celebrated July 27
In a unique graduation celebration on July 27, Minot State University honored 20 graduates from two programs in Ann Nicole Nelson Hall. Fourteen students from the Job Corps Executive Management Program and six students from the Intercultural Cohort Program earned a Master of Science degree. [Read more about the JCEMP & InC graduation]
---
July 27, 2011
NAC presents 'Summerfire' ceramics exhibit
The Northwest Art Center will host a public reception this evening (July 27) from 6:30 to 8:00 p.m. at the Gordon B. Olson Library Gallery for "Summerfire," an exhibit of ceramic works by Minot State University art department faculty and students. The exhibit is on display July 18 through August 12 at the library gallery.
The exhibit showcases works by MSU art faculty Linda Olson and Jim Bailey, as well as several of their ceramics students. Sculptures and functional pottery make up the offering.
In addition to his teaching duties at MSU, Bailey operates Hi-Performance Ceramics, a commercial ceramics studio in downtown Minot. Bailey will display traditional forms such as vases, as well as a sculpture that combines ceramic elements with motorcycle parts.
Olson will display fine art ceramics and functional pottery. Forms and imagery of ancient figurines have been the inspiration for Olson's recent sculptural pieces.
MSU students participating in the exhibit will show sculptures produced in their spring semester ceramics classes.
The exhibition and reception are free and open to the public. Parking on the MSU campus is unrestricted after 5 p.m. The gallery is open during regular library hours.
This project is funded in part by a grant from the North Dakota Council on the Arts, which receives funding from the state legislature and the National Endowment for the Arts. For more information about Northwest Art Center activities, call 701-858-3264.
---
July 26, 2011
MSU reaching out
This week, approximately 3000 Minot State University students are being contacted as part of a telephone campaign designed to assess student needs for the fall semester.
Representatives from several campus departments, as well as faculty and staff volunteers are calling former and currently enrolled students to obtain information about housing needs and address any additional concerns they may have about returning to campus.
"The campaign is just one of many ways MSU is reaching out to students in hopes of demonstrating we are working hard to provide housing and willing to assist them with any other needs," said Dick Jenkins, vice president for student affairs.
Move-in Day on MSU's campus is Aug. 18. Classes officially start Aug. 23.
---
July 25, 2011
MSU Football camp week begins
Minot State University began a half week of football camps with the Linebackers and Defensive Backs Camp Monday morning on the turf of Herb Parker Stadium.
The Beavers continue with position camps on Tuesday (Offensive and Defensive Lineman Camp) and Wednesday (Quarterback, Running Backs and Wide Receivers Camp) and have its annual Youth Camp Monday, Aug. 2.
Each camp attracts around 20 high school football players and the Youth Camp will bring nearly 100 young players to campus. The Youth Camp still has opens spots and is for youngsters in grades 3-6. Cost of the camp is $25. For more information, contact the MSU Athletic Department main office at (701) 858-3041.
Salvation Army needs more volunteers
Each day finds more Minot residents who are working on their homes, and thus, more folks who need a cold drink of water and a cleanup kit. The Salvation Army needs more volunteers to help. Anyone interested in volunteering is encouraged to call 838-8925. More information [pdf]
---
July 6, 2011
Dear Minot State University Faculty, Staff, and Students:
Taking a deep breath after this recent rise and surge of the Souris, I am pleased to report that we made it through the worst of it well. A big thanks is due to our maintenance staff and many others across campus who worked tirelessly and selflessly to keep our university free from the damage of the flood. Roger Kluck and his staff, members of student affairs, and countless others who stepped up to help the university and to volunteer to help many less fortunate from our campus and in our community deserve a special note of appreciation. I also appreciate everyoneís patience and understanding of our need to suspend summer classes temporarily and to modify some of our classes to help those impacted directly by the flood to get back on track with their studies and classes.
The flood has brought some unexpected challenges for our campus. With the number of people who have either lost their homes or apartments, we must work hard to find suitable and affordable housing for those who have been displaced and new students who are arriving in the fall. At this point, we have examined our residence halls and identified ways to increase the number of beds by more than 60. We have also decided to secure a low-interest loan from the Bank of North Dakota to secure ten Olympic-like housing units to locate on campus before the start of the fall semester. These units will accommodate 100 additional students. We have also secured the entire top floor of the Beaver Ridge Plaza east of Broadway. As I understand, those units have already been rented by students. We have also decided to suspend for this coming year the requirement that all first-year students reside on campus in our residence halls to provide for any who may wish to reside at home this year. I am currently writing an op-ed to publish in the Minot Daily News this Sunday asking people in our community to call us if they have affordable apartments available for our students, faculty, and staff.
I am convening a meeting tomorrow morning of individuals across campus responsible for enrollment management, housing, food services, financial aid, records and registration, campus infrastructure, budgets, student affairs, and academic affairs. We plan to identify key issues needing our attention as the city and region restore services and work to help those who have experienced flood damage. The North Dakota University System and the State Board of Higher Education is well apprised of our situation, and I have assured them that we are taking appropriate steps to continue to offer our high quality teaching and learning and our best services to students and our community.
The bottom line is that we are in good shape, well prepared to complete our summer classes, and well prepared for the start of the new academic year. It should be a great academic year on all counts. I wanted to write and assure you that we are serving our region responsibly during this emergency while serving our students well and making preparations for another successful year at Minot State University.
As we say, "Be Seen, Be Heard."
Sincerely,
David Fuller
President
---
June 30, 2011
Minot State University Summer Students:

We are taking steps to help you complete your classes during this flood emergency in Minot. Our campus remains dry and fully operational, but we understand the special demands this has placed on some of our summer students. In response, many of our classes have been modified to provide our students additional flexibility in completing classes.
All MSU classes will begin meeting again on Tuesday, July 5, 2011. To assist you and explain any changes, your faculty member will contact you through email giving you specific details about the class for which you are registered. We encourage you to check your campus email and to correspond directly with your instructor if you have questions about your course.
If you are coming to campus, please park as far north as possible. No tickets will be issued. We also have permission to use the Bishop Ryan High School parking lots. Be prepared for slow traffic and allow extra time for travel.
If you have been impacted directly by the flood and believe you cannot continue with your classes, please contact Laurie Weber at 858-3875 or Dale Gehring 858-3862 in the Financial Aid Office for information regarding Minot State Universityís special withdrawal process. You will need to complete this withdrawal no later than Friday, July 8, 2011. Following July 8, the standard withdrawal policy outlined in the university catalog will apply.
We are committed to assisting you in your work to complete your courses and to maintain the quality and the coverage of your classes.
---
June 28, 2011
To All MSU faculty, staff and students:
MSU will remain open on a limited basis through Friday, July 1. All administrators, supervisors and directors are required to come to work. Other employees will be contacted and required to come to work as needed to provide additional support in departments. Employees not contacted by their supervisors are not required to come to work but asked to volunteer and support our community where needed.
The campus will fully reopen on Tuesday, July 5. All employees are expected to return to work at that time. As MSU prepares for summer classes and the fall semester, supervisors are asked to consider flexible and staggered eight hour shifts to help reduce traffic congestion. To reduce parking pressures, employees are encouraged to car pool, where possible, and to park on the north end of campus. Additional information will be sent by email today to all faculty and staff.
---
June 22, 2011
Minot State University remains open
In the midst of uncertainty, Minot State University remains committed to serving its students, employees and the community. The decision to remain open and maintain a semblance of "normalcy" was carefully considered and not taken lightly.
"Minot State University has an obligation to provide the classes and education the students have paid for," said David Fuller, MSU president. "However, for those employees and students directly impacted by the flood, we remain flexible and sensitive to their needs and encourage them to make arrangements through their supervisors to tend to their personal safety and business."
According to Lenore Koczon, vice president for academic affairs, there are approximately 87 on-campus summer classes being conducted, 18 of which have remote IVN sites associated with them to accommodate students in other communities in the region. Ninety-two courses are currently offered over the Internet, 13 classes are running at Minot Air Force Base and three courses in Bismarck. There are also 62 other types of classes offered. They include independent studies, internships, practicums and study-abroad credits; some of which meet occasionally on campus. Total enrollment is approximately 860 students.
Additionally, the campus has become a respite for emergency workers, evacuees and others in Minot assisting with the flood efforts. The five residence halls, generally home to summer and international students, have expanded to include the National Guard, state Emergency Management Services personnel, construction crews, MDU emergency workers, evacuees from the Boysí and Girlsí Ranch, Red Cross administration, national media and displaced MSU departments and employees. The Dome will be available to the public beginning today (June 22).
To protect infrastructure and buildings on the south end of campus, dikes are being constructed from 8th St. NW., across University Avenue, to the south end of the cemetery on Broadway. The height of protection will be from eight to 11 feet, depending on campus elevation.
Departments in the sublevels of campus buildings, such as Information Technology Central and the Student Health and Development Center have been relocated to avoid any interruption of services.
An Emergency Assistance Center is temporarily staffed to help identify needs and answer questions. It has been instrumental in coordination efforts between volunteers and those needing assistance. Staff will be available at 858-4000, 8 a.m. to 4:30 p.m. through Friday (June 24).
As Minot State University continues to prepare for flooding, campus employees are encouraged to park as far north as possible. However, access to Lot O is temporarily restricted, while city and other crews continue to work on secondary dikes. The best parking options available are the Bishop Ryan High School lots east of the Dome and the unreserved lots west of the Gordon B. Olson Library.
Until further notice, parking enforcement has been discontinued, and employees may park anywhere on campus (excluding clinic and handicap parking). Please note that the dikes along University Avenue will completely enclose Lots B, D and E. Lot K was previously closed for construction access, and it remains closed. Lots F, G and H are open, with access from the north. However, employees and students should avoid these lots until the University Avenue dikes are finished. MSU Parking Map
Finally, contrary to information presented in this morning's flood meeting, UPS and FedEx have not suspended service to campus. The USPS also intends to continue service to the campus. If you have questions about year-end purchases and delivery dates, please contact the Business Office.
Summer Theatre productions change dates
The "Pirates of Penzance" will be moved to July 7-11, and "My Fair Lady" will be performed July 21-25. "Don't Dress for Dinner" will be rescheduled for some time in August in Aleshire Theater. The dates will be announced later. For questions, contact kevin.neuharth@minotstateu.edu.
Library hours
The Gordon B. Olson Library hours for the remainder of the week are:
7:30 a.m. to 8 p.m. - Wednesday and Thursday (June 22-23)
7:30 a.m. to 4:30 p.m. - Friday (June 24)
Saturday (June 25) - Closed.
Sunday (June 26) - Closed
Graduate School and Research and Sponsored Programs has limited staffing
The Graduate School and Research and Sponsored Programs office will have limited staffing Monday through Friday (June 27-July 1). The hours will be 8:15 a.m.-noon. Messages may be left at 858-3250 or graduate@minotstateu.edu.