Forming partnerships and achieving community, national and international recognition through the quality of education is one of the primary goals for College of Business.
College of Business
News and Community Events
The MSU College of Business is oriented on the constant professional growth, improvement and expansion of the outlook. The main values are to educate, challenge, inspire, and mentor students in their pursuit of a high-quality business education through interactive and engaged learning experiences for their professional and personal betterment. College of Business wants to see the students succeed and encourages attending Business Community events in order to develop a sense of current business environment.
December 2, 2015: Technology Day
It is 18th annual Technology Day in Minot State University School of Business. The Business Teacher Education Students and the Business Information Department are looking forward to hosting 13 area high schools (Berthold, Bowbells, Burke Central, Des-Lacs Burlington, Kenmare, Powers Lake, Sawyer, Stanley, Surrey, TGU-Granville, TGU-Towner, Underwood, Westhope) as they compete in Tech Day on Wednesday, December 2. Participants will complete tests and tasks in such subjects as Accounting I, Business Communication, Business Law, Desktop Publishing, Document Production, Introduction to Business, Spreadsheet Applications and Presentation Software. A sweepstakes trophy will be given to the school receiving the most points for placements in all competitions.
Business Programs receive specialized accreditation
http://www.minotstateu.edu/business/news/2015/accreditation.shtml
The International Assembly for Collegiate Business Education board of commissioners recently reaffirmed accreditation of business programs offered by Minot State University's College of Business. IACBE granted accreditation to MSU's business programs with no notes and one observation, a rare achievement. MSU will be publicly recognized for achieving accreditation at the 2015 IACBE Annual Conference and Assembly Meeting on April 5-8 in Memphis, Tenn.  The College of Business' accreditation is valid for a maximum of seven years, through July 2022.
November 5, 2015: Are you Work Place Ready: The Interview
Industry expert, Julie Vetter (SHRM-CP, PHR, Training Supervisor for Hess Corporation) talks about developing a resume and preparing for/executing a successful job interview. Students will get the interview skills they need to be prepared to enter the professional workforce in the near future. They will gain value knowledge about interview do's and don'ts through a live mock interview. They will also learn valuable skills for their job search from Vetter's experience with Target, Best Buy and Hess Corporation. The event takes place on November 5, 2015 at 12:30 - 2 p.m. in Student Center Conference Cener, 3rd floor.
October 29, 2015: Business to Business Networking Seminar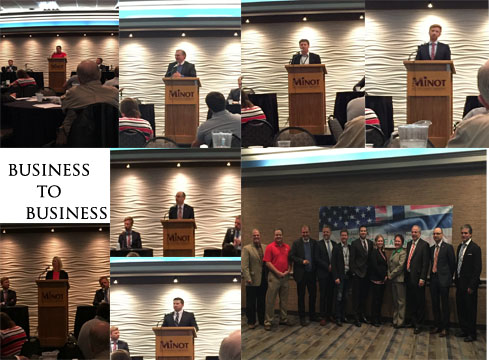 The third annual Business to Business Networking Seminar took place October 29, 2015 at the Grand Hotel Ballroom and was a great success as many people attended and the presentations were very engaging. Thank you to Minot Area Development Corporation, the Minot State University College of Business, the Minot Area Chamber of Commerce, Host Fest, and our partners from Norway for putting together a great program. Please be sure to attend next year at the 2016 Hostfest!
October 27-28: 2015 New Strategic Plan Open Forum
All MSU faculty, staff and students were invited to attend one of two campus forums to learn more about the proposed activities and timeline for developing a new strategic plan. There was be a Q&A session and discussion related to this proposed plan of action. The forums were held October 27, 2015 at 12:30 p.m., and October 28, 2015 at noon in the MSU Conference Center.
September 16, 2015: MSU partners with Polish university
Minot State University and the University of Social Science and Humanities, Poland, are partnering to offer exchange programs, study abroad programs, dual diplomas and faculty exchanges. A Memorandum of Understanding was signed September 16, 2015 forming the basis for the future cooperation between the universities.